Metal East: Novo Kolo Festival to be held from May 31 to June 2 in Kharkiv, Ukraine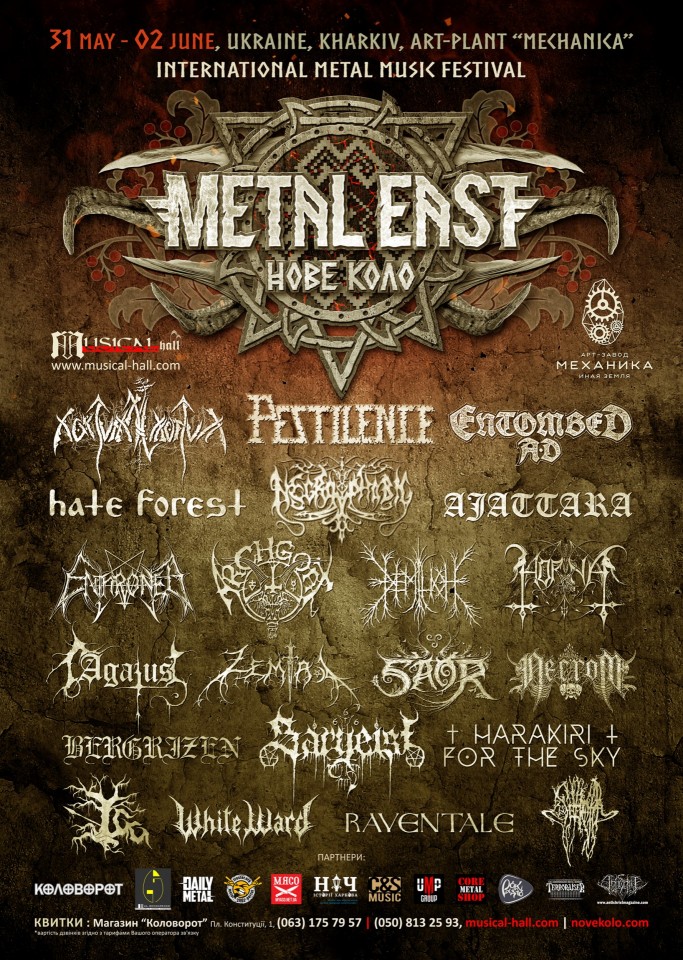 Metal East: Nove Kolo festival will be held from May 31 to June 2 in Kharkiv, Ukraine. This three-day event will bring together performances of more than 20 metal acts from Europe and Ukraine, as well as various exhibitions and master classes. In particular, the upcoming festival will feature the show of Hate Forest, the band which was founded by Drudkh's members, which after its split in 2004 will reunite for the only live performance at the Metal East: Nove Kolo.
Line-up:
Hate Forest (Ukraine)
Saor (Scotland)
Bergrizen (Ukraine)
Archgoat (Finland)
Entombed A.D. (Sweden)
Sargeist (Finland)
Harakiri for the sky (Austria)
Pestilence (Netherlands)
Raventale (Ukraine)
Enthroned (Belgium)
Demilich (Finland)
Severoth (Ukraine)
Zemial (Greece)
Ajattara (Finland)
Horna (Finland)
White Ward (Ukraine)
Agatus (Greece)
Nokturnal Mortum (Ukraine)
Necrophobic (Sweden)
Necrom (Ukraine)
Ygg (Ukraine)
Announcement from the organizers:
"What is the Metal East Nove Kolo Festival?
Much more than just a festival – we are committed to offer a complete and unique cultural event; the symbiosis of all forms of artistic expression within a historical, mythological and traditional representation of the great European narrative through the ages, cultures, and people that formed and continue to shape it.

History has been forged over centuries in many ways, and Art was one of its main vehicles, which is why you will find not only concerts, but also other cultural forms such as crafts, cooking, painting, photography, literature etc. We want to offer you a unique event and an overall experience.

Therefore this project will materialize at an atypical place, right in the center of our beautiful city of Kharkiv. We are waiting for many of you from May 31 to June 2, to honor together the memory of our glorious ancestors in a fraternal and family atmosphere, to revive the flame of the past, like a torch in the darkness.

History of the festival
Over the years, the Nove Kolo concept has united people to support independent artists.
In 2017, we held the Kolovorot Nove Kolo, in 2018 we paid tribute to the French festival Ragnard. It's time to move on and create our own festival brand.

So, in 2019, the first Metal East Festival will take place: a festival created by a team gathered over the past years under the sign of the Nove Kolo.

We will take into account all the experience gained, eliminate the drawbacks and save the best from previous festivals.
Read also: Weekend at Ragnard Reborn Nove Kolo. Report from two festival days

Metal East: Nove Kolo will take place from May 31 to June 2, 2019 at the Art Factory Mekhanika in Kharkiv, Ukraine. Follow the link to find more information about the festival's rebranding with a new name. 3-day tickets for Metal East: Nove Kol from 1350 to 3500 UAH are already available for order here.
Read also: Interview with J. J. from Harakiri for the sky on "Arson" and depression

The pre-party of the festival, featuring Impaled Nazarene (Finland), Asphyx (Netherlands), and the Ukrainian acts Sectorial, Burshtyn and Mutanter, will take place on April 13 in Kyiv, Ukraine.
Read also: "The main thing is freedom and opportunity to say everything that excites you". Interview with Nokturnal Mortum's leader Varggoth