​Metal East: Nove Kolo – Warm-Up Show to be held on April 13 in Kyiv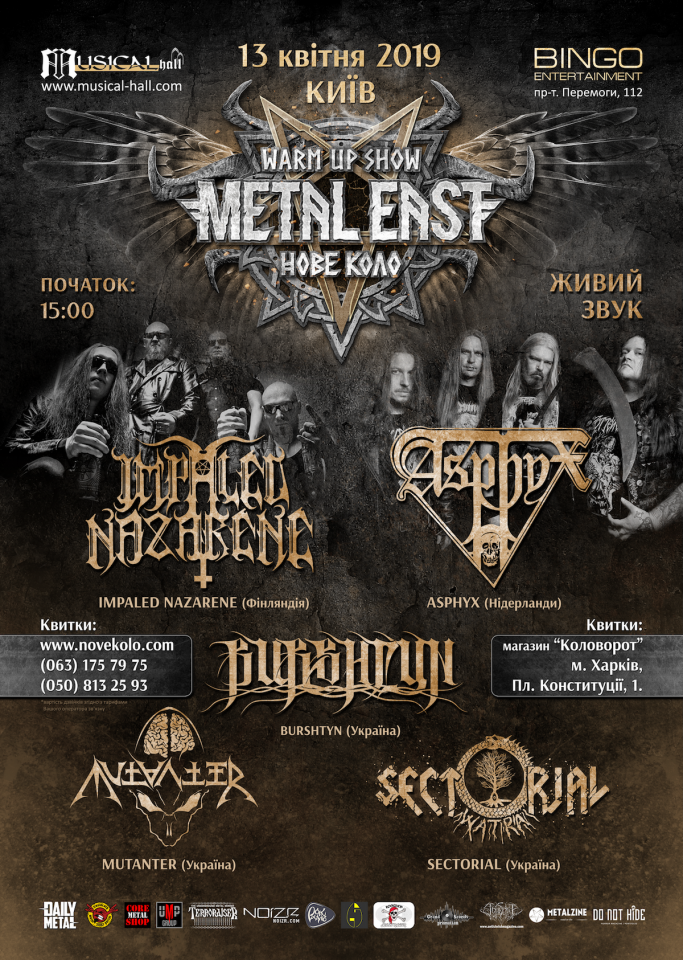 Ahead of Metal East: Nove Kolo festival, which will be held in Kharkiv from May 31 to June 2, the fest's Warm-Up Show will take place in Kyiv featuring such performing acts as Impaled Nazarene (Finland), Asphyx (The Netherlands), Burshtyn (Ukraine), Sectorial (Ukraine), and Mutanter (Ukraine). Organizers' announcement:
"About Warm-Up Show

Since many Ukrainian metal music fans and guests of our country are still used to visit gigs and festivals only in Kyiv, we have prepared for you a very special surprise to give you all an idea of what to expect from our main festival in Kharkiv.

On Saturday, the April 13th of 2019 in Bingo Club, there will be a killer Metal East: Nove Kolo preparty show. Please take notice that there you will have a possibility to buy the tickets for Metal East: Nove Kolo main festival in Kharkiv with discount. =Looking forward to meet you both at preparty show on April 13th in Kyiv and at the festival from May 31st to June 2nd in Kharkiv!
Read also: Weekend at Ragnard Reborn Nove Kolo. Report from two festival days
About bands

Black metal and punk rock, Satanism and alcohol, nuclear war and sex, militant heroism of forefathers and everyday violence, rock'n'roll and grindcore. There is only one band on our long-suffering mother planet Earth, which unites all this stuff in its music, and this band is Impaled Nazarene.

The second foreign headliner of the Metal East Nove Kolo warm-up party in Kyiv — legendary Asphyx from the Netherlands! The band known as European fathers of true death/doom metal — the style where death component reigns over doom one — led by one of the most distinctive extreme metal vocalists ever, Martin van Drunen, will give the lesson in harshness and hopelessness to audience of the show.
Read also: "It was kind of challenge": Martin van Drunen on new Asphyx's album
The free wind of steppes brings forth the smoke of conflagrations, the echoing rhythm of Cossacks armies marching into battle and the sounds of their music. Burshtyn is the new name on Kharkiv scene, formed by its long-running representatives. The band already released two records, and their brand of combative black metal already gained the support of many metal underground people.

Sectorial band was formed in ancient year of 2000 by schoolmates in Boyarka town of Kyiv region. Though the new chapter in history of the band began in 2007 with continuous records and gigs, the guys made a true breakthrough in 2015 with their second full-length album "We Are the Titan's Rising Ashes". High quality modern death/grind accompanied by Ukrainian folk instruments with clever, thought-provoking lyrics immediately tamed many fans and even gained two awards at The Best Ukrainian Metal Act event — for the best album and video of the year. And in 2018 Sectorial released the same powerful third full-length album — "VYR".
Read also: Sectorial's frontman and musical instruments maker Ivan Kozakevych on his collection
Mutanter are veterans of Ukrainian death metal from Kharkiv, who finally released their full-length studio album entitled "The Limit" in 2018 through German label Kernkraftritter Records. Their powerful performance simply blew away audience during the album release show, which happened in summer at Ragnard Reborn: Nove Kolo fest in Kharkiv."
Date and venue:
April 13, 2019
Ukraine, Kyiv, Peremogy Avenue, 112
Bingo Club
Tickets for Warm-Up Show
Fan Zone — $24 — buy here
Premium — $40 — buy here
Ticket pack (Warm Up Show + Metal East) — $77.2 — buy here
Event on Facebook