"It was kind of challenge": Martin van Drunen on new Asphyx's album
Asphyx is one of the most well-known extreme metal bands from the Netherlands. Founded in 1987, it has undergone many changes in the line-up and even splitted up a few times, but managed to write its name in the rank of the most powerful bands of the death and doom metal stage. In anticipation of the new album "Incoming Death", we spoke to Asphyx's vocalist and leader Martin van Drunen, asking him questions about the upcoming release, the Second World War influence on the album's lyrics, label's importance and much more.
This year, you have pleased your fans with a new album "Incoming Death", tell our readers about this release. Are you satisfied with the final result?
Martin van Drunen (hereinafter — Martin): We're very, very happy with the album. There were some troubles and, of course, all kinds of things happened after "Deathhammer", especially when Bob [Bob Bagchus, the drummer] left the band. And, yes, at first we had to find a replacement and fortunately we did it with Hüskens [Stefan Hüskens] — fantastic man, fantastic drummer, fantastic guy. It was special to do an album with him. We're very, very happy the way it came out and we all agreed afterwards, even if "Deathhammer" was a very good album, but we think this is even a little bit better than that one. So, yeah, can't be more satisfied with the album than I am now.
What are your expectations for "Incoming Death"?
Martin: Well, first of all, because "Deathhammer" was a really good album, it was kind of pressure, but kind of challenge to see if we can improve that. But we think we did. Probably, with this one we may even gain a bit more fans that we already have and also please the old fans with it. And about my expectations… I don't expect all of a sudden to become a millionaire because of sales [laughs]. Well, we do pretty well, I hope our label Century Media will be pleased with how it will go and we wait for that.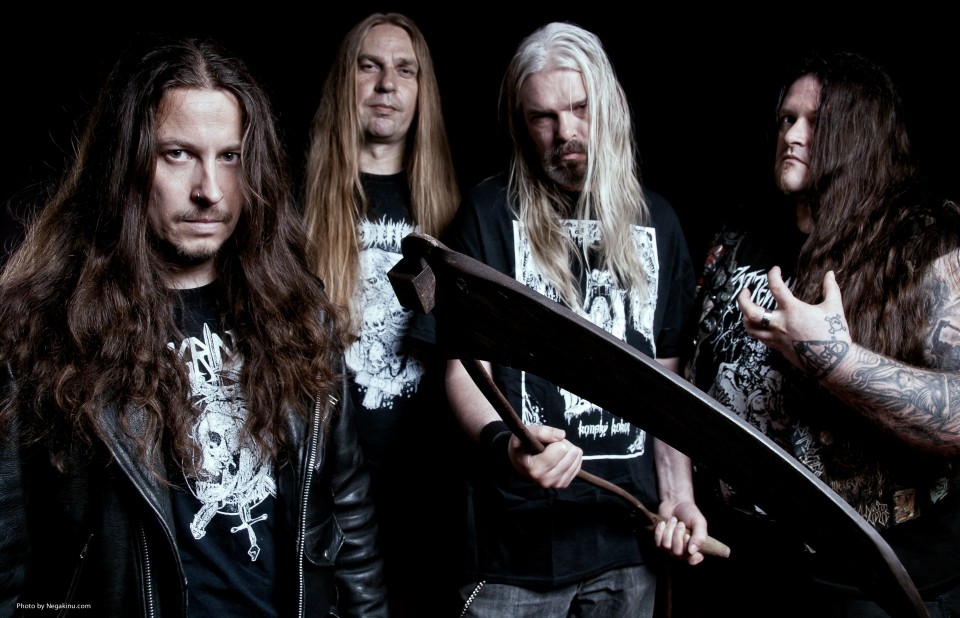 In one of the latest interviews, you said that "Eisenbahnmörser" title is related to the German railroad mortar, and "Division Brandenburg", judging by its title, has a reference to the German Special Forces unit. Thus, how much influence did the Second World War have on the album?
Martin: Well, the thing with Asphyx is that through time we always had certain songs that were war-related. You have mentioned "Eisenbahnmörser" already, on "Deathhammer" it was "Minefield" and "Der Landser". So, yes, this one "Division Brandenburg" is about the German Special Division, but there is also "The Grand Denial". I don't think that people know or can actually find out that this song is about war also, but it has nothing to do with the Special Forces or battle. This is something about very tragic things which happened when the Japanese occupied Asia, when they captured hundred thousands of young women and forced them to become the sex slaves for the Japanese army. As I said, it's war-related, but completely different than usual staff with bloody battles or a certain statistic or tactic events that happened. Yeah, we always do that and it just depends on what I'm interested in. I have read a lot about WWII and maybe I'm kinda enough now, but still there are new things to find out, there are always new things that inspire me to write my songs about.
Were there any other sources of inspiration while you were working on the album's lyrics?
Martin: Yeah, of course. Sometimes when Paul [the guitarist Paul Baayens] comes with certain songs then I get the inspiration for the lyrics too. I think, the last song that we wrote really fast because he came up with this riff, and we said, "This is a brilliant, use it". It was the riff for "Forerunners of the Apocalypse" and that kind of tempo that the song has it just remind me of scamper of thousand of horses and it may be think of the Mongols and Attila the Hun. And I started reading about it and I was like, "Wow, these guys were really something else". It was quite interesting to read more about it. So I wrote the song about the Genghis Khan of the Mongols back in the day. I mean, when you just read about people that actually decapitate, I think, 1,7 million people in about to each time, that's something really unbelievable. So there was one of the things that inspired me when we were doing the music. But I read really a lot which is my next passion to music. And sometimes when you read the book, there are kind of a few subpages which is deal with the subject. It can be really interesting and trigger the inspiration. Yeah, it could be different from the science fiction to the history, to the national disaster or to anything else. Which is typically Asphyx.
For more than 20 years, Century Media Records has issued Asphyx's releases. How great do you think is a label role in the band's activity and success?
Martin: We have special kind of relationships with Century Media because we're the oldest band on the label now. We have a lot of respect for them and they have a lot of respect for us and the whole communication and the whole working atmosphere between us is on really friended basis even if of course it has to be very professional. We're really, really happy with them and they're really happy with us, so there is no point in changing this for us. I think, almost every band nowadays decides to go for the money and subscribes with Nuclear Blast. But for us, it's not the most important thing, the most important thing is that people who are in the label are also dedicated to the music you made and you're not just a member of drowning in this great ocean with tons of bands. For us there is absolutely no reason to change to another label or major label.
And what about young bands, should they seek the major label?
Martin: I think, if you find a small good label, they can really prepare you into something, into little bit more attention. I think, for bands it's absolutely better. I mean, it'll cost you really a lot of effort, time and work for a band to key the attention that normally a label can get for you. It just save you really a lot of pressure and troubles which you can as a band better use to write songs or to prepare yourself to get inspiration for an album or whatever. I mean, the band should be really more focused on making the music and the label is the one who should take care of the distribution, so people can buy an album. It's definitely a plus if you have a label, but the label with the size of Century Media, I think, they can do the same as what the big label can do and you don't have to be at the major label to get the same kind of attention.
Asphyx was founded in 1987, when the death metal stage had just been arising and how would you describe it today?
Martin: You mean the Dutch death metal stage? I don't think that through the years the Dutch scene has changed much, bands came, bands went and now we have let's call it a kind of new wave of old school death metal bands. They really young and enthusiastic, they bring very good albums. For me it's a big pleasure to see that in the Netherlands, because that mean that death metal scene has a future.
I know that you receive many demos from the bands. Are there any among them that you actually like?
Martin: Yes, and it's not just demos. There are some young bands that already sign to small labels. We meet them most of the time, if we play somewhere they support us as an opening act. So, yeah, there are lots of bands: Bodyfarm, Funeral Whore which just made a really good brutal album… There are a few to mention and I like them really. We'll do a few shows with them in the future and we're looking forward to that.
Last October, you went on the South American tour. Judging by Asphyx's post on Facebook, the tour was very inspiring (in particular, there was written "So many stories to tell, so many great times and shows we had"). What was the most memorable moment during this tour?
Martin: There are really so many stories. That's really hard to tell because all of the people were very hospital, very kind, very fanatic in their support to us. I mean, this amazing crowd on Monday evening. You don't think that on Monday evening lots of people will show up to your show, but they just came. I don't know how much people were there, but it was full and they cheered us like we were some football team. It was incredible. What was also very charming was that small club where we played in Costa Rica. I had no idea that there was actually a metal scene in Costa Rica, so, people were absolutely friendly when we arrived. Yeah, we played in a small club, but that's how it goes sometimes. Actually, we played in every new country every new day. So, everyday was another story, everyday was another adventure and everyday was just really fantastic and really great. I really hope I can come back and see a little bit more.
So, this tour was so memorable because of the people?
Martin: Yeah, because of the people. When we arrived, the way how they treated us, you know, we got really nice food and they treated us kind. I think, if they were able, they would probably give us their last money just to make us feel well. So, that was really special.
In addition to Asphyx, you are also a member of Grand Supreme Blood Court band. Is there any news about this project?
Martin: Well, not really news. We have a meeting with Alwin, who plays on the bass with me in Asphyx. We decided to continue because we really like the first album. I think, Henri, who is the vocalist, guitarist in God Dethroned, also very good Dutch band that I forgot to mention, is joining us too. Frank Schilperoort used to play in a few Dutch bands. So, yeah, if the storm is over for this album and as soon as there will come more quiet period and we can work on new songs, we will see where it goes. It's not yet, because as I said, that's not really news, but it's definitely not the end the band is not over or something. Yeah, we wanna do something else, another album after the first one, but we have no idea when it'll be. We need some extra time for it and now we're really busy with Asphyx.
Follow Asphyx on Facebook
Pre-order "Incoming Death" from CM Distro

Interviewed by Anastezia
Noizr Zine thanks Century Media Records for helping to organize the interview