​Calendar of events in Ukraine: Top 25 gigs of this fall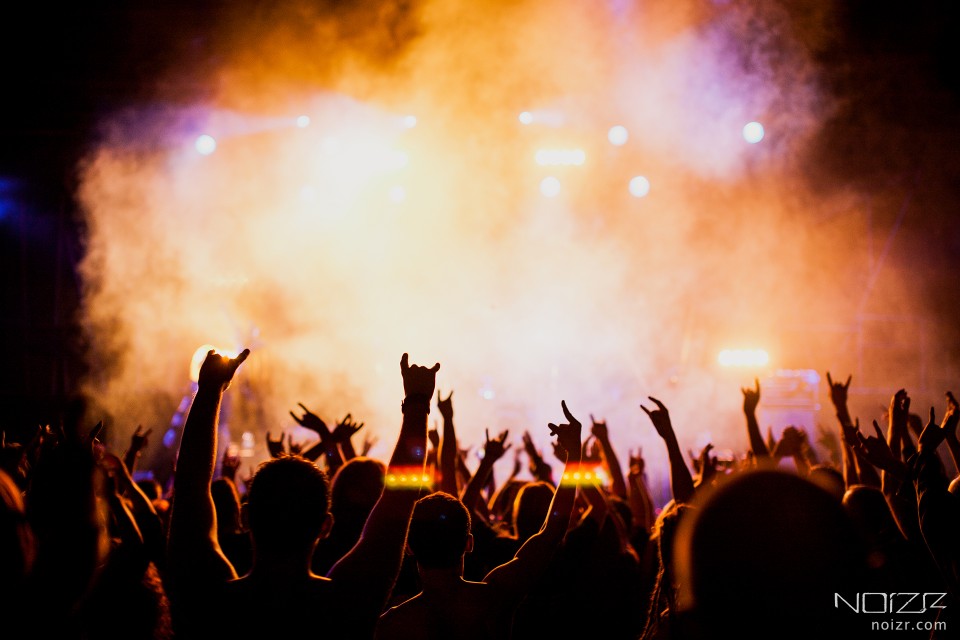 This fall, many good rock and metal gigs are going to take place in Kyiv and other Ukrainian cities. In this article we have selected the most interesting of them that you definitely should not miss!

If we suddenly missed some event worthwhile in your opinion — write about it in the comments below. We will also be happy to find out which of the gigs we mentioned you plan to attend.
September 7 — Ashen Dominion Fest III
In early September, Kyiv's MonteRay club will host the third fest of the label Ashen Dominion. The vent will feature Ukrainian bands Kroda, Raventale, Severoth, Barkasth, and Ezkaton. Tickets from 350 UAH.
"The heat of the fading summer will plunge you into the sorrow and grief of the coming autumn. Darkness and hopelessness, dust and devastation will rule your world again. Volume 3 of the Ashen Dominion Festival is ready to come".
September 13, 14, 15 — Rotting Christ
Titans of the world metal scene with a 30-year career, Rotting Christ, are going on tour in Ukraine with their new album "The Heretics".
On September 13 in Lviv with Sectorial, on September 14 in Kyiv, and on September 15 in Kharkiv, the Hellenes will play 3 gigs in support of their latest album "The Heretics", with which the band is currently blasting European stages. Tickets from 550 UAH are available here.
September 15 — Stoned Jesus
In September, Stoned Jesus will play a concert in honor of the 10th anniversary of their first performance. The organizers promise an exclusive set with hits and songs from different periods of the band's career.
The concert will take place at the Zelenuy Teatr in Kyiv, tickets — from 250 UAH.
September 18 — Static-X
In October 2018, Static-X announced that they were reuniting the band to tour in the memory of the late singer Wayne Static.
During the tour, Static-X will present their new album "Project Regeneration", which will be released in the first half of 2019, as well as mark the 20th anniversary of the band's debut album "Wisconsin Death Trip". Now the band consists of original members — Tony Campos, Koichi Fukuda, Ken Jay — and a guest vocalist. The performance in Ukraine will be held on September 18 at the Atlas club in Kyiv. Head to this location to learn more details about the gig.
September 20 — Evanescence
American rock band returns in Kyiv with a show on September 20. The performance will take place at the club Stereo Plaza, tickets — from 1350 UAH.
An entire generation has grown up listening to the music of Evanescence which, by right, is considered one of the most famous rock bands of our time. To learn 10 interesting facts about Evanescence, head to this location.
September 27 — Dimmu Borgir
At the upcoming concert in Kyiv, the Norwegians Dimmu Borgir will present their 2018's album "Eonian" which marked the return of symphonic black metallers after a seven-year hiatus and was timed to coincide with the 25th anniversary of the band. The show will be held at the Stereo Plaza, tickets from 1150 UAH are already available for sale.
October 1, 2 — Vader and Thy Disease
Polish metal acts Vader and Thy Disease will return to Ukraine with two concerts: on October 1, the bands will perform at the FESTrepublic club in Lviv and on October 2 at the Metropolis Arena in Chernomorsk.
Head to this location to read a concert review of Vader, Hate, and Thy Disease performances in Kyiv last year.
October 2, 3 — Children of Bodom
Children of Bodom will give two gigs in Ukraine as part of Hexed World Tour 2019 — on October 2, Finnish melodic death metallers will perform in Kharkiv and on October 3 in Kyiv. Concerts will be held in support of the band's new album "Hexed". Below, you can check an interview with COB keyboardist Janne Wirman about this release and the band's 20th anniversary.
October 9 — Septicflesh
A concert of Greek symphonic death metallers Septicflesh will be held in Kyiv on October 9 in support of the latest album "Codex Omega".
Announcement of the organizers: "The antique gods of symphonic death metal are finally returning to Ukraine to present their 10th studio album "Codex Omega".
The performance of Septicflesh will take place at the Bingo club. Tickets from 550 UAH are already available here.
October 9-13 — Hypnos, Fleshgore, Etsykh and Revolt
Czech death metallers Hypnos will go on a joint tour with Kyiv's bands Fleshgore, Etsykh, and Revolt.
9.10 — Uzhhorod
10.10 — Vinnitsa
11.10 — Kyiv
12.10 — Kharkiv
13.10 — Dnipro
October 11-20 — U.D.O.
The project of Accept's ex-vocalist Udo Dirkschneider U.D.O. returns to Ukraine with an extensive tour in honor of the band's new album "Steelfactory". In addition to songs from the latest release, U.D.O. will also perform its main hits.
11.10 — Kyiv
12.10 — Poltava
13.10 — Kharkiv
15.10 — Dnipro
16.10 — Zaporozhye
10.10 — Nikolaev
19.10 — Odesa
20.10 — Kherson
October 12-13 — Doom Over Kyiv
Doom Over Kyiv, which celebrates its 12th anniversary this year, is returning after a one-year break. Ukrainian metal festival will be held from October 12 to 13 at the Atlas club.
For 12 years of existence, such teams as Swallow the Sun, Saturnus, Antimatter, October Tide, Shape of Despair, Draconian, Clouds, Panteist, Esoteric, Skepticism, Fen, Eye of Solitude, Raventale, 1914 and others have performed on the Doom Over Kyiv stages.
12/10/2019:
Tiamat (SE) — "Clouds" & "Wildhoney" set
Antimatter (UK)
Monolithe (FR)
1914 (UA)
Aklash (UK)
Suffer Yourself (SE/UA)
13/10/2019:
October Tide (SE)
Thenighttimeproject (SE)
(EchO) (IT)
Mournful Gust (UA)
KZOHH (UA)
October 17 — Dope
American alternative rockers Dope, best known for their hit "Die MF Die", return to Ukraine in honor of the 20th anniversary of their debut album "Felons and Revolutionaries".
Announcement from the organizers: "The team has existed for more than 20 years, and it does not seem like frontman Edsel Dope is going to stop. That's why they go on tour to share the explosive energy that distinguishes their legendary debut with new and old fans."
The show will take place on October 17 at the Atlas Club. You can buy tickets for the Dope concert in Kiev here.
October 19 — Bölzer
The organizers of the Holy Death Over Kyiv festival, Death Worship Comittee, announced the only concert of the death/black metal act Bölzer in Ukraine.
The event will take place on October 19 in the capital's Monteray Club along with a support group. Tickets for the show are already available for sale.
"Owners of electronic and physical tickets need to write a request to us at hdok 616 (at) gmail.com by sending a photo, scan or barcode number of your ticket to HDOK DCLXVI and your name," the organizers informed on Facebook.
Recall that earlier the Swiss duo was supposed to perform at the Holy Death Over Kyiv DCLXVI festival, however, on the day of the concert, the group announced the cancellation of its arrival due to problems with documents.
October 20 — Robust Evening
This fall will be held Robust Evening — Robustfellow label party, which will feature three Ukrainian teams: Ethereal Riffian, Somali Yacht Club and Love'n'Joy. Tickets — 250 UAH.
October 23 and 24 — P.O.D.
American Christian rock band P.O.D. will give two concerts in Kharkov and Kiev. The group travels to Ukraine as part of a European tour in support of a new album called "Circles", which was released in November 2018. Tickets from 660 (Kharkov) and 700 UAH (Kiev) are already available for sale.
October 26 — The Rasmus
Finnish rockers The Rasmus will celebrate in Kyiv the 15th anniversary of the album "Dead Letters", which features the band's biggest hit "In the Shadows". In honor of the anniversary of the record, The Rasmus will go on a European tour, and on October 26 will perform at the Stereo Plaza club in Ukraine. Tickets from UAH 950 are already available for sale.
November 4 — Ensiferum
As part of Pagan Tour 2019, Ukraine will be visited by legends of pagan metal scene — the brave berserkers from Finland, Ensiferum. The performance will take place at the Bingo club in Kyiv on November 4, tickets are available from 690 UAH.
November 4, 5, 6, 8 — Apocalyptica
Apocalyptica returns to Ukraine with four gigs in different cities of the country. Finnish cellists, combining metal and classical instruments, will present Plays Metallica by Four Cellos program. The band's first album with exactly same name brought worldwide fame to the musicians. Event tickets are now available for sale.
4.11 — Kharkiv
5.11 — Kyiv
6.11 — Odesa
8.11 — Dnipro
November 7 — Attila
On November 7, Ukrainians will be able to spend the evening at a concert of American rockers Attila, who will play their main hits and furious new songs from the recent release "Villain". Tickets from 700 UAH are already available for sale.
November 8 — Jinjer and The Agonist
In November, Jinjer will present in Kyiv the songs from their new album, which will be released this fall via Napalm Records. In addition to the Ukrainian band, the Canadian act The Agonist will also perform for the first time in Kyiv as a special guest. The event will take place at the Bingo club, tickets from 400 UAH are already available for sale.
November 12th — Agnostic Front | Scorpions | Laibach
American hardcore Agnostic Front will give a concert in Kyiv, Ukraine, in honor of the 35th anniversary of the band's debut album "Victim In Pain". The performance will take place on November 12 at the Atlas club.
Tickets for Agnostic Front gig in Kyiv are already available at this location.
Announcement from the organizers: "They have no equal, they are respected and considered leaders of the genre by hardcore representatives. Their sound — one of the evilest in punk music — helped to design hardcore as a musical and cultural direction, first in New York and then around the world. Initially, Agnostic Front produced fast, powerful punk, featuring aggressive drums and bass, and chaotic vocals by Roger Miret. This year, the legendary band celebrates the 35-anniversary of their debut "Victim In Pain", which, going ahead, paved the way for their entire catalog."
You can buy tickets for the Agnostic Front concert in Kiev on concert.ua from 740 UAH.
Scorpions
Scorpions, as part of their ongoing farewell tour, will once again give a concert in Kyivv. Performance will take place in the Sports Palace. Tickets from 1299 to 2099 UAH are already available for sale.
Laibach
Also on November 12, the cult Slovenian industrial act Laibach is going to perform at the October Palace in Kyiv. Tickets from 250 to 3000 UAH are already available for sale.
Click here to watch videos and photos from Laibach's performance in North Korea.
November 15 — Oomph!
German rockers Oomph! will present their latest album "Ritual" at the Stereo Plaza in Kyiv. "Ritual" is the first record in four years in the discography of Oomph!, the pioneers of Neue Deutsche Härte or dance metal, who decided to return to their roots with this record, making the sound much harder than before. In Kyiv, Oomph! are reported not only perform the fresh songs, but also a new, stunning show, as well as proven hits.
Tickets from 990 UAH are already available for sale.
November 15 — Gods Tower
Belarusian act Gods Tower will play in Kyiv's MonteRay Live Stage concert in honor of the band's 30th anniversary. Tickets for 350-800 UAH are already available for sale.
"Behind thirty years of existence. For a man, this is not age, but for a band it's a long and difficult path. A path during which there were long pauses, falls and take-offs.

Come to our gig, and we will together refute death and do solar metal! And there will be really a lot of us!"
November 16 — Gutalax
For the first time in Ukraine, on the occasion of its 10th anniversary, the iconic Czech grindcore band Gutalax will perform in Kyiv. Gutalax is a constant member of the big European extreme music festivals, in particular, Obscene Extreme and Brutal Assault.
Having gathered in 2009 in a small town, the band in a very short time became known in their homeland. And constant tours across Europe, the USA, and South America brought Gutalax world recognition. The gig in Kyiv will be held at Volume Club, tickets for 300 UAH are already available for sale.