Rotting Christ: "Athanatoi Este" song premiere from first live album
The Greek metal band Rotting Christ to release the first of its career live album. The album titled "Lucifer Over Athens", consisting of two CD, will come out on August 21 via Season of Mist. Above you can listen to the song "Athanatoi Este", which will be included in the album.

"The reason that we have chosen "Athanatoi Este" as the first track to represent and give you an idea about our first ever official live album "Lucifer Over Athens" lies in the translation of this song's title: 'You Are Immortals'! " — the frontman Sakis Tolis says: "It is to all our dedicated followers that we give our deepest respect and love, which will be: immortal!"
"Lucifer Over Athens" was recorded in Athens in December 2013. The cover artwork was created by the American artist Nurgeslag, who also worked on Rotting Christ's last full-length album "Κατά τον δαίμονα εαυτού".
Tracklist:
CD1
6 6 6
Dub-Sag-Ta-Ke
Athanatoi Este
Κατά τον δαίμονα εαυτού
Nemecic
After Dark I Feel
Sorrowfull Farewell
Among Two Storms
Gloria De Domino Inferni
Feast Of The Grand Whore
The Nereid Of Esgalduin
Forest Of N'Gai
The Sign Of Evil Existence
Transform All Sufferings Into Plagues
Fgmenth, Thy Gift
Societas Satanas
CD2
Demonon Vrosis
Quintessence
The Call Of The Aethyrs
In Yumen — Xibalba
Grandis Spiritus Diavolos
Welcome To Hel
King Of A Stellar War
Archon
Exiled Archangels
Dive The Deepest Abyss
The Fourth Knight Of Revelation
The Sign Of Prime Creation
Non Serviam
Enuma Elish
Noctis Era
Rotting Christ's forthcoming tour dates:

July 9 — Iceland, Neskaupstaður @ Eistnaflug
July 23 — Slovenia, Tolmin @ Metal Days
July 24 — Germany, Hamburg @ Schlatfest
July 25 — Germany, Lörrach @ Baden in Blut Open Air
August 6 — Germany, Schlotheim @ Fluglatz Obermehler (Party.San Open Air)
August 21 — Germany, Uckeralm @ Burning Alm Festival
August 22 — Austria, Spital am Semmering @ Kaltenbach Festival
August 30 — Turkey, Istanbul @ Headbangers Weekend Festival
October 1 — Norway, Trondheim @ Trondheim Metal Fest
Album cover artwork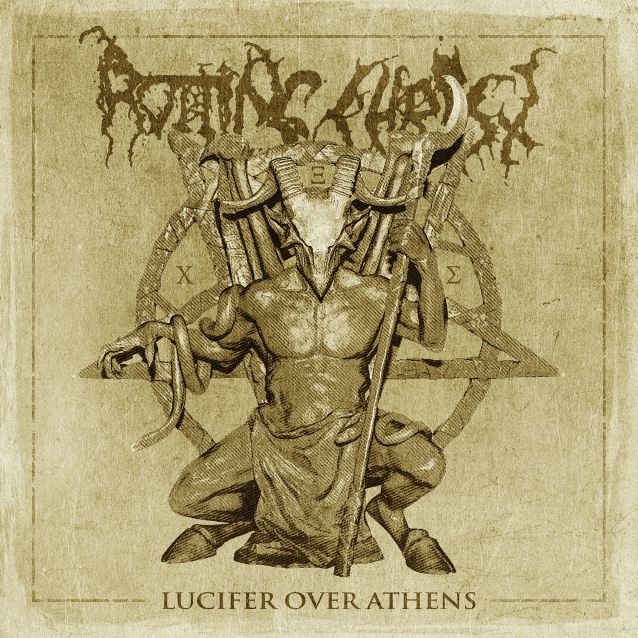 Main photo: Rotting Christ