New album streaming: Rotting Christ, Sólstafir, Seth, Cannabis Corpse, Benighted and Saint Vitus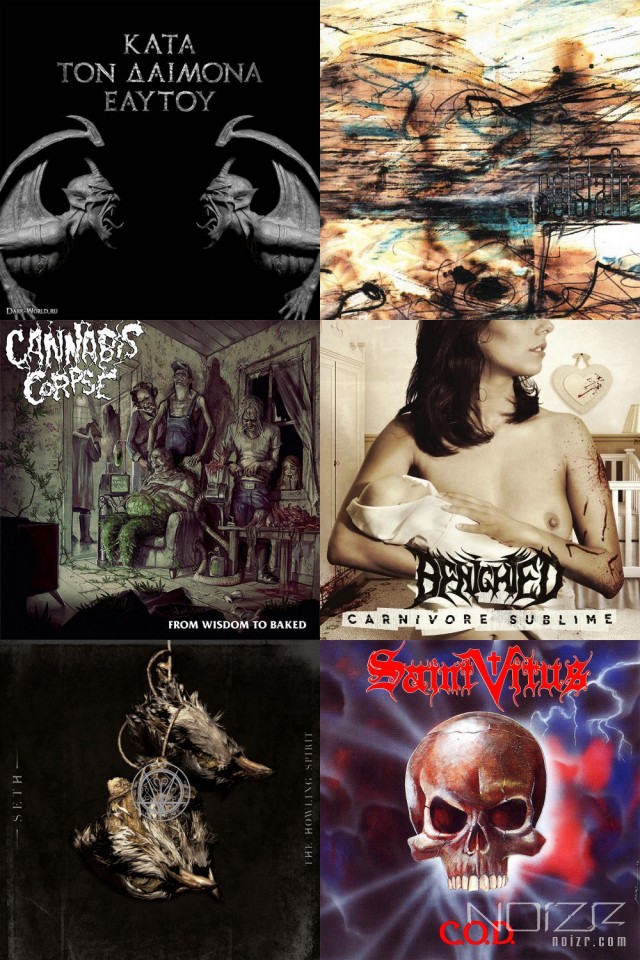 Season of Mist posted again for free listening the full-length metal bands' releases. This time on YouTube there were posted the last albums of Rotting Christ, Seth, Cannabis Corpse and Benighted, as well as old-school album "Children of Doom (COD)" of the Americans Saint Vitus and the debut album "Í blóði og anda" of the Icelandic group Sólstafir.

The label previous stream you could find by following the link.

The Icelanders Sólstafir's debut album "Í blóði og anda", released in 2002, is significantly different from the modern sound of the band.
Track listing:
Undir Jökli
Í Blóði Og Anda
The Underworld Song
Tormentor
2000 Ár
Ei Við Munum Iðrast
Bitch In Black
Í Viking
Árstíðir Dauðans
"Κατά τον δαίμονα εαυτού" is the last full-length album by extreme metal band Rotting Christ, which the Greeks presented at the concert in Kiev last year.
Track listing:
In Yumen — Xibalba
P'unchaw Kachun — Tuta Kachun
Grandis Spiritus Diavolos
Κατά Tον Δαίμονα Tου Ἐαυτού
Cine Iubeşte şi Lasă
Iwa Voodoo
Gilgameš
Русалка
Ahura Mazdā-Aŋra Mainiuu
Χ ξ ς
Бонус-трек:
Welcome To Hell
"The Howling Spirit" is the last album of the French black metal band Seth.
Track listing:
In Aching Agony
Killing My Eyes
One Ear To The Earth, One Eye On Heaven
Howling Prayers (Act I)
He Whose Hearth Is Heavy with Sin
Ten Barrels (A Scourge For The World,a Plague For His Soul)
Scars Born from Bleeding Stars
Howling Prayers (Act II)
Mort-Luisant
Dicing With Death
The latest album "From Wisdom to Baked" of the American marijuana-themed death metallers Cannabis Corpse
Track listing:
Baptized In Bud
Zero Weed Tolerance
Weedless Ones
Individual Pot Patterns
Pull The Carb
Considered Dank
Voice Of The Bowl
THC Crystal Mountain
With Their Hash He Will Create
From Wisdom To Baked
Medicinal Healing
The seventh studio album "Carnivore Sublime" of death metal band Benighted, which was released in 2014.
Track listing:
X2Y
Noise
Experience Your Flesh
Slaughter / Suicide
Spit
Defiled Purity
Jekyll
Collection Of Dead Portraits
Carnivore Sublime
Les Morsures Du Cerbère
June And The Laconic Solstice
The album "Children of Doom (COD)" of 1992 year by the old school American doom metal band Saint Vitus.
Track listing:
Intro
Children of Doom
Planet of Judgement
Shadow of a Skeleton
(I Am) The Screaming Banshee
Plague of Man
Imagination Man
Fear
Get Away
Bela
A Timeless Tale
Hallow's Victim