​At The Gates film 3-minute video about their secret show in Germany
After an 1,5-year concert break, the Swedish band At The Gates decided to step back into the ranks, giving a secret show on March 2 in Osnabrück, Germany. A short documentary about this gig, shot by Costin Chioreanu, can be viewed above.

According to At The Gates' vocalist Thomas Lindbergh, the band wanted to prepare for the headline performance at the Deathfest festival in the Netherlands, so they decided to play in a small club in Germany under a different name, in order to avoid pressure before the first concert after a long break. However, the musicians left little hints for their fans, choosing as the pseudonym the name The Burning Darkness, which is a reference to their 1993's album "With Fear I Kiss the Burning Darkness", and posting a photo from the airport on Instagram the day before the event. Nevertheless, many visitors of the concert were surprised to see At The Gates instead of The Burning Darkness, announced as a supporting act.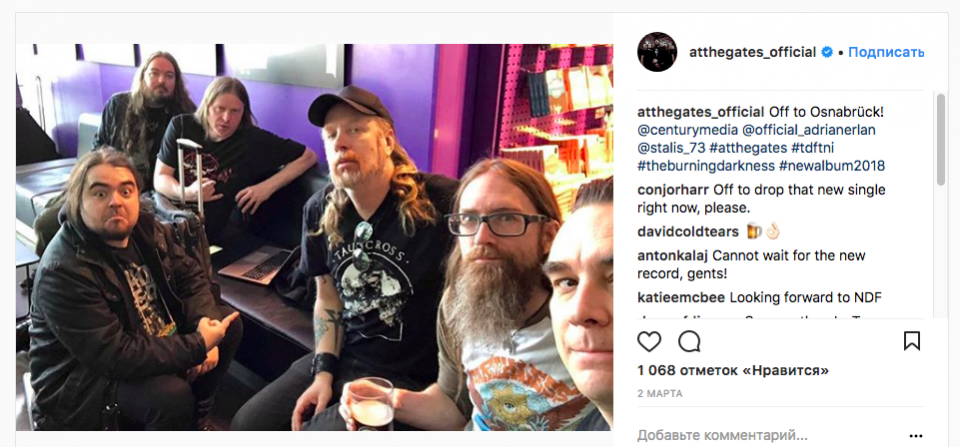 The secret show became the debut for the guitarist Jonas Stålhammar, who joined the band in 2017. Also, during the set, At The Gates for the first time performed live the title track of the upcoming album "To Drink From the Night Itself", which will be released on May 18 via Century Media Records.
See also: At the Gates releases video for upcoming album's title song "To Drink From The Night Itself"