​Supergroup Metal Allegiance presents video "Dying Song"
The project Metal Allegiance consisting of a rotating cast of musicians, including members of Megadeth and Testament, released the video clip for the song "Dying Song". Directed by Vicente Cordero of Industrialism, it tells about the death, which is pursuing people.
"Dying Song" was recorded with the vocalist Phil Anselmo (Pantera, Down), the guitarist Alex Skolnick (Testament), the bass player Mark Menghi and the drummer Mike Portnoy (Dream Theater, The Winery Dogs). The track will be released on Metal Allegiance's debut self-titled album on September 18 via Nuclear Blast Entertainment.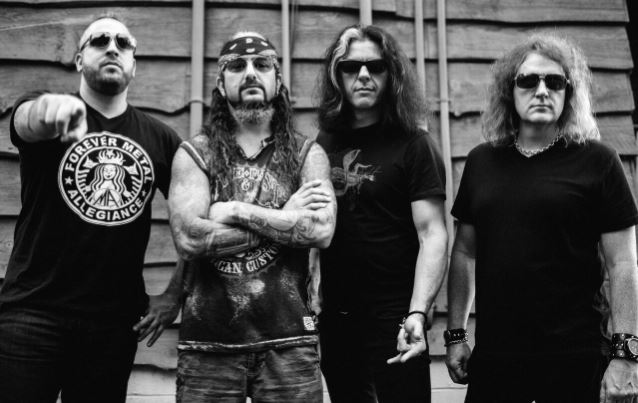 The core team of Metal Allegiance is Mark Menghi, Mike Portnoy, Alex Skolnick and David Ellefson. The upcoming "Metal Allegiance" also features the musicians:
Charlie Benante (Anthrax)
Chuck Billy (Testament)
D. Randall Blythe (Lamb of God)
Rex Brown (Pantera, Down, Kill Devil Hill)
Ron 'Bumblefoot' Thal (Guns N' Roses)
Phil Demmel (Machine Head)
Alissa White-Gluz (Arch Enemy)
Matthew K. Heafy (Trivium)
Gary Holt (Exodus)
Jamey Jasta (Hatebreed)
Chris Jericho (Fozzy)
Andreas Kisser (Sepultura)
Misha Mansoor (Periphery)
Mark Osegueda (Death Angel)
Tim "Ripper" Owens (Judas Priest, Iced Earth)
Doug Pinnick (Kings's X, KXM)
Troy Sanders (Mastodon)
Cristina Scabbia (Lacuna Coil)
Steve 'Zetro' Souza (Exodus)
Ben Weinman (The Dillinger Escape Plan)
Tracklist:
1. Gift Of Pain
Vocals: D. Randall Blythe
Lead & Rhythm Guitars: Alex Skolnick
Bass: David Ellefson
Drums: Mike Portnoy
Additional Lead Guitar: Gary Holt
2. Let Darkness Fall
Vocals: Troy Sanders
Lead, Rhythm & Acoustic Guitars: Alex Skolnick
Bass: David Ellefson
Drums & Percussion: Mike Portnoy
Additional Bass: Mark Menghi & Rex Brown
Additional Screams: D. Randall Blythe
3. Can't Kill The Devil
Vocals: Chuck Billy
Lead & Rhythm Guitars: Alex Skolnick
Bass: David Ellefson
Drums: Mike Portnoy
Additional Lead Guitar: Phil Demmel & Andreas Kisser
4. Dying Song
Vocals: Philip H. Anselmo
Lead & Rhythm Guitars: Alex Skolnick
Bass: Mark Menghi
Drums: Mike Portnoy
5. Scars
Vocals: Mark Osegueda & Cristina Scabbia
Lead & Rhythm Guitars: Alex Skolnick
Bass: David Ellefson
Drums: Mike Portnoy
06. Destination: Nowhere
Vocals: Matthew K. Heafy
Lead & Rhythm Guitars: Alex Skolnick
Bass: David Ellefson
Drums: Mike Portnoy
Additional Lead Guitar: Matthew K. Heafy
7. Wait Until Tomorrow
Vocals: Doug Pinnick & Jamey Jasta
Lead & Rhythm Guitars: Alex Skolnick
Bass: David Ellefson
Drums, Percussion & Additional Vocals: Mike Portnoy
8. Triangulum I. Creation II. Evolution III. Destruction
Lead & Rhythm Guitars: Alex Skolnick
Bass: David Ellefson
Drums: Mike Portnoy
Additional Lead Guitar: Misha Mansoor, Ben Weinman, Charlie Benante, Phil Demmel, Matthew K. Heafy & Ron 'Bumblefoot' Thal
9. Pledge Of Allegiance
Vocals: Mark Osegueda
Lead & Rhythm Guitars: Alex Skolnick
Bass: David Ellefson
Drums: Mike Portnoy
Additional Lead Guitar: Charlie Benante, Gary Holt & Andreas Kisser
10. We Rock (DIO cover) (deluxe edition only)
Vocals: Mark Osegueda, Chris Jericho, Tim "Ripper" Owens, Alissa White-Gluz, Chuck Billy &
Steve "Zetro" Souza
Lead & Rhythm Guitars: Alex Skolnick
Bass: David Ellefson
Drums: Mike Portnoy
Additional Lead Guitar: Andreas Kisser, Phil Demmel & Gary Holt
"Metal Allegiance" cover artwork