Slayer's new video "Repentless" shows a bloody prison riot
In honor of the new album "Repentless" release, the thrash metal band Slayer presented the music video for the record's title song. Directed by BJ McDonnell, it was filmed with the well-known actors on August 26 at the women's prison in East Los Angeles. The photo and video footages from the shooting can be seen below.

High quality video and the participation of professional actors McDonnell explained by his desire to make a video "more like something for a feature film than a rock band's music video". His work on the music video "Repentless" is the debut. Previously, he had directed the movie "Hatchet III" and worked as a motion picture cameraman on "The Avengers: Age of Ultron", "Ant-Man" and "The Interview".
Together with producer Felissa Rose and stunt coordinator Nils Allen Stewart ("Planet of the Apes", "Anger Management", "Daredevil"), McDonnell has assembled a gang of actors and crew for filming a prison riot. In the video you can recognize the iconic personalities from the world of horror and trash movies: Derek Mears ("Friday the 13th"), Tyler Mane ("Halloween"), Jason Trost ("Hatchet III"), Danny Trejo ("Machete"), Tony Moran (as Michael Myers in "Halloween"), Sean Whalen ("Men in Black") and Vernon Wells ("Mad Max 2", "Commando").
The album "Repentless" came out on September 11 via Nuclear Blast Records. It was recorded from August 2014 to mid-January 2015 at the Henson Studios in Los Angeles and produced by Terry Date (Pantera, Soundgarden, Deftones). Previously, Slayer has unveiled the song "Cast The First Stone" taken from the new CD.
"Repentless" is the first full-length album recorded without the guitarist and band's founder Jeff Hanneman. Also, the new CD is the first release, issued after the returning of the drummer Paul Bostaph and with the new guitarist Gary Holt.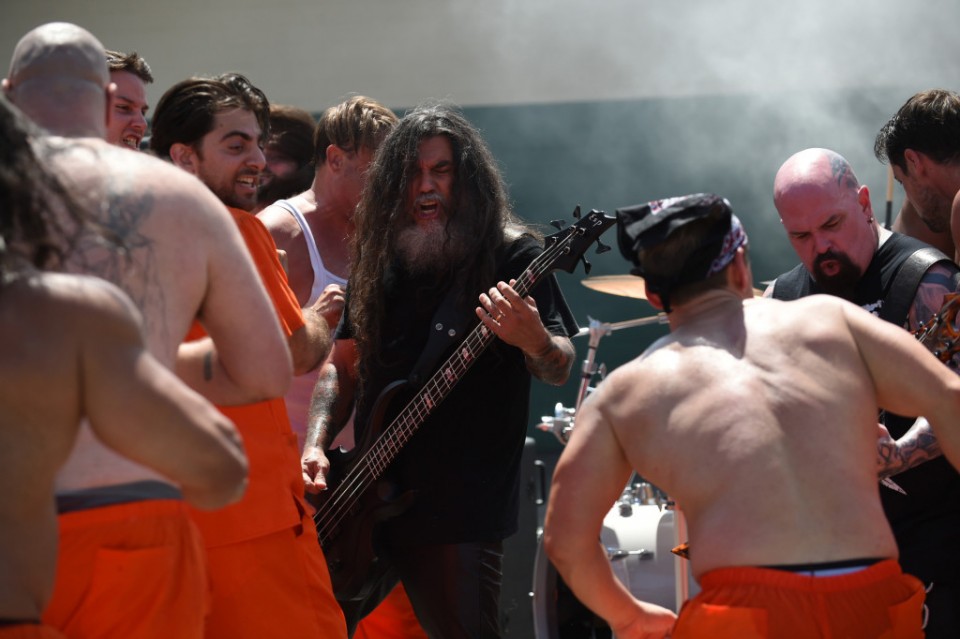 Left to right: Slayer's Tom Araya, Kerry King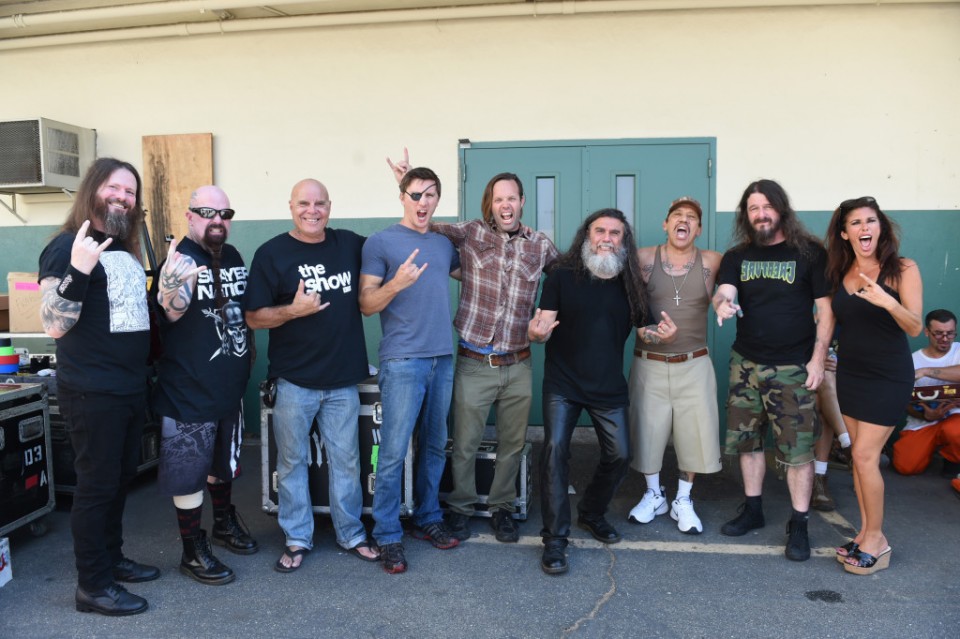 Left to right: Slayer's Gary Holt and Kerry King, actors Tony Moran and Jason Trost, video director BJ McDonnell, Slayer's Tom Araya, actor Danny Trejo, Slayer's Paul Bostaph, video producer Felissa Rose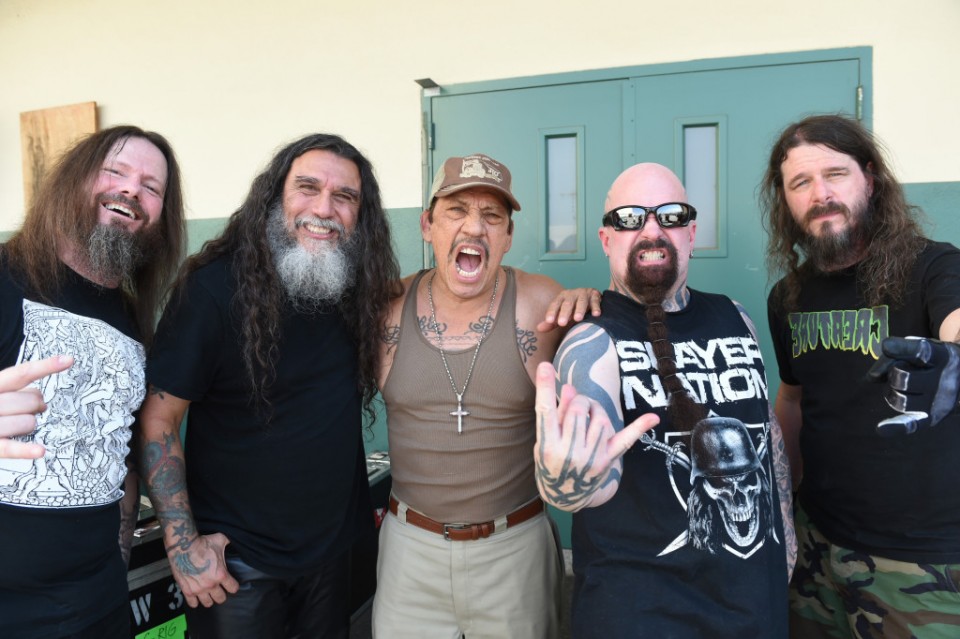 Left to right: Slayer's Gary Holt and Tom Araya, Danny Trejo, Slayer's Kerry King and Paul Bostaph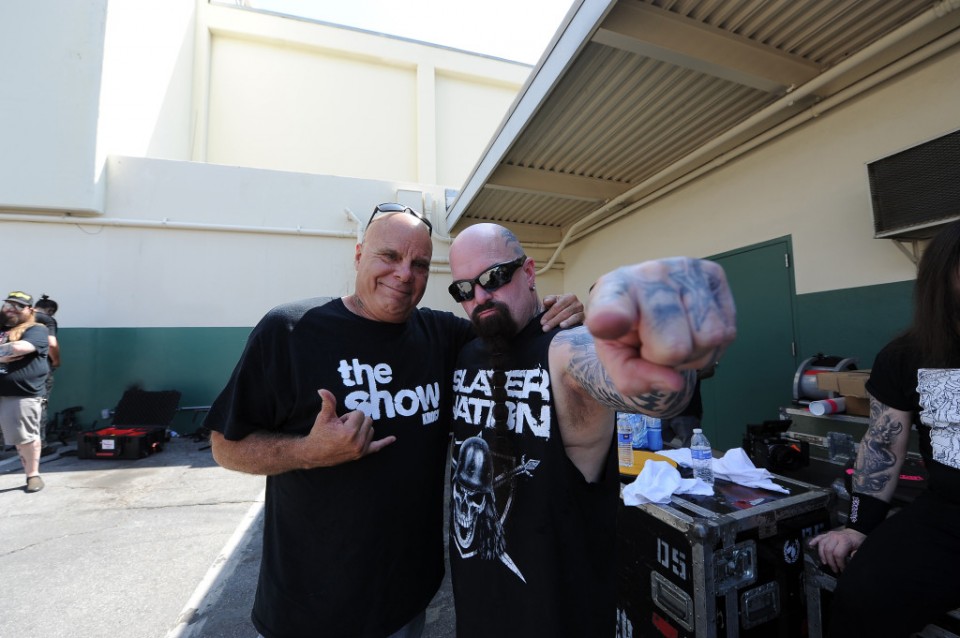 Left to right: Slayer's Kerry King and actor Tony Moran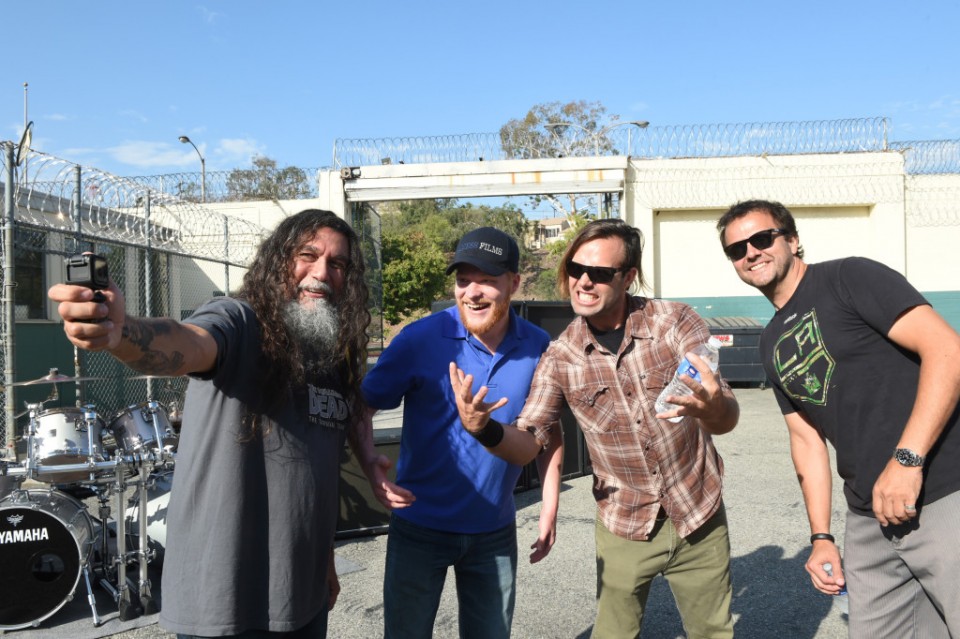 Left to right: Slayer's Tom Araya, first assistant director Justin M. Hopper, video director BJ McDonnell, and director of photography Eric Leach