​Hollywood Vampires: teaser of super-group feat. Alice Cooper, Johnny Depp and Joe Perry
This fall, Alice Cooper, together with Joe Perry and Johnny Depp will release a tribute album "Hollywood Vampires". The upcoming record also featured Paul McCartney, Dave Grohl, Joe Walsh, Brian Johnson, the late actor Christopher Lee and The Doors' guitarist Robby Krieger.
The first time the Hollywood Vampires appeared as a group of musicians who spend their free time together at the club "Rainbow Bar & Grill" in the 70s. Its founder Alice Cooper comments:
"To join the club, one simply had to out drink all of the members. I would walk in on a typical night," Alice says, "and John Lennon, Harry Nilsson, Keith Moon — who would usually be in a costume like a maid or a chauffeur — Bernie Taupin, Jim Morrison and Mickey Dolenz would be there. The next week might be Bernie Taupin, Jimi Hendrix, Jim Morrison and Mickey Dolenz."
Three years ago, Alice Cooper and Johnny Depp, who were later joined by Aerosmith's Joe Perry, decided to breathe life into the Hollywood Vampires, but without the traditional heavy drinking. With the participation of well-known rockers, the band recorded a tribute album dedicated to the original "vampires". The record release will take place on September 11.

Tracklist:
1. The Last Vampire
Narration: Sir Christopher Lee
Keyboards and Sound Design: Johnny Depp, Bob Ezrin and Justin Cortelyou
2. Raise The Dead
Vocals: Alice Cooper
Guitars: Johnny Depp, Tommy Henriksen, Bruce Witkin
Drums: Glenn Sobel
Bass: Bruce Witkin
Background Vocals: Alice Cooper, Tommy Henriksen, Bob Ezrin
3. My Generation
Vocals: Alice Cooper
Guitars: Johnny Depp, Tommy Henriksen
Bass: Bruce Witkin
Drums: Zak Starkey
Background Vocals: Tommy Henriksen,
4. Whole Lotta Love
Vocals: Brian Johnson, Alice Cooper
Guitars: Joe Walsh, Johnny Depp,
Orianthi, Tommy Henriksen, Bruce Witkin
Harmonica: Alice Cooper
Drums: Zak Starkey
Bass: Kip Winger
Programming: Tommy Henriksen
Backing Vocals: Alice Cooper, Tommy Henriksen
5. I Got A Line
Vocals: Alice Cooper, Perry Farrell
Guitars: Joe Walsh, Johnny Depp, Tommy Henriksen, Bruce Witkin
Drums: Abe Laboriel Jr.
Bass: Kip Winger
Background Vocals: Perry Farrell, Tommy Henriksen, Bob Ezrin
6. Five to One/Break On Through
Vocals: Alice Cooper
Guitars: Robby Krieger, Johnny Depp, Tommy Henriksen
Drums: Abe Laboriel Jr.
Farfisa: Charlie Judge
Bass: Bruce Witkin
7. One/Jump Into The Fire
Vocals: Alice Cooper, Perry Farrell
Guitars: Robby Krieger, Johnny Depp, Tommy Henriksen, Bruce Witkin
Drums: Dave Grohl
Bass: Bruce Witkin
Keyboard: Bob Ezrin, Bruce Witkin
Programming: Tommy Henriksen
8. Come And Get It
Vocals: Paul McCartney, Alice Cooper
Guitars: Joe Perry, Johnny Depp
Piano: Paul McCartney
Drums: Abe Laboriel Jr.
Bass: Paul McCartney
Background Vocals: Johnny Depp, Alice Cooper, Abe Laboriel Jr., Bob Ezrin
9. Jeepster
Vocals: Alice Cooper
Guitars: Joe Perry, Johnny Depp, Tommy Henriksen,
Drums: Glenn Sobel
Bass: Bruce Witkin
Programming: Tommy Henriksen
Background Vocals: Bob Ezrin
10. Cold Turkey
Vocals: Alice Cooper
Guitars: Joe Perry, Johnny Depp, Tommy Henriksen
Drums: Glenn Sobel
Bass: Bruce Witkin
Programming: Tommy Henriksen
Background Vocals: Alice Cooper, Tommy Henriksen
11. Manic Depression
Vocals: Alice Cooper
Guitars: Joe Walsh, Johnny Depp, Tommy Henriksen
Drums: Zak Starkey
Bass: Bruce Witkin
Piano: Bob Ezrin
12. Itchycoo Park
Vocals: Alice Cooper
Guitars: Johnny Depp, Tommy Henriksen
Drums: Glenn Sobel
Bass: Bruce Witkin
Programming: Tommy Henriksen
Background Vocals: Alice Cooper, Tommy Henriksen, Bob Ezrin
13. School's Out / Another Brick In The Wall Pt. 2
Vocals: Alice Cooper, Brian Johnson
Guitar: Slash, Joe Perry, Johnny Depp, Tommy Henriksen, Bruce Witkin
Drums: Neal Smith
Bass: Dennis Dunaway
Background Vocals: Kip Winger, Bob Ezrin
14. Dead Drunk Friends
Vocals: Alice Cooper
Guitars: Johnny Depp, Bruce Witkin,
Drums: Glenn Sobel
Programming: Tommy Henriksen
Bass: Bruce Witkin
Piano: Bruce Witkin, Bob Ezrin
Background Vocals: Alice Cooper, Johnny Depp, Tommy Henriksen, Bruce Witkin, Bob Ezrin
"Hollywood Vampires" cover artwork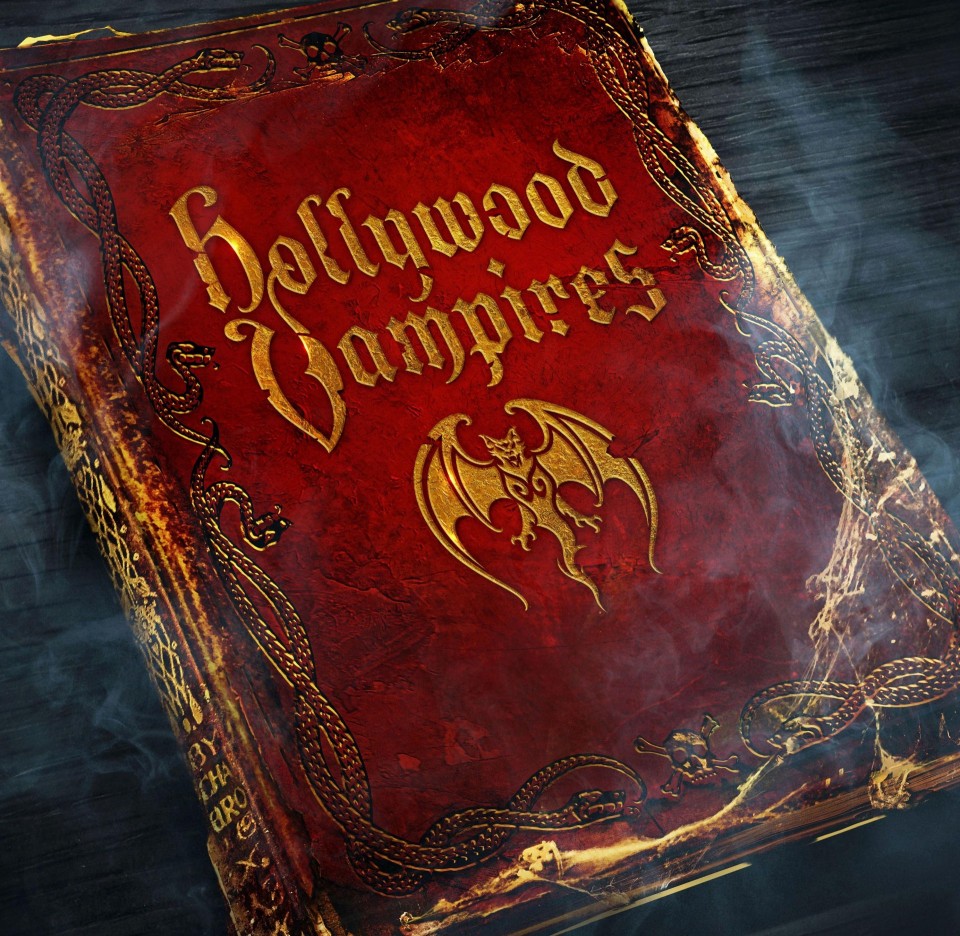 Main photo: gruemonkey.com