Full album streams: Septicflesh, Carach Angren, Kylesa and others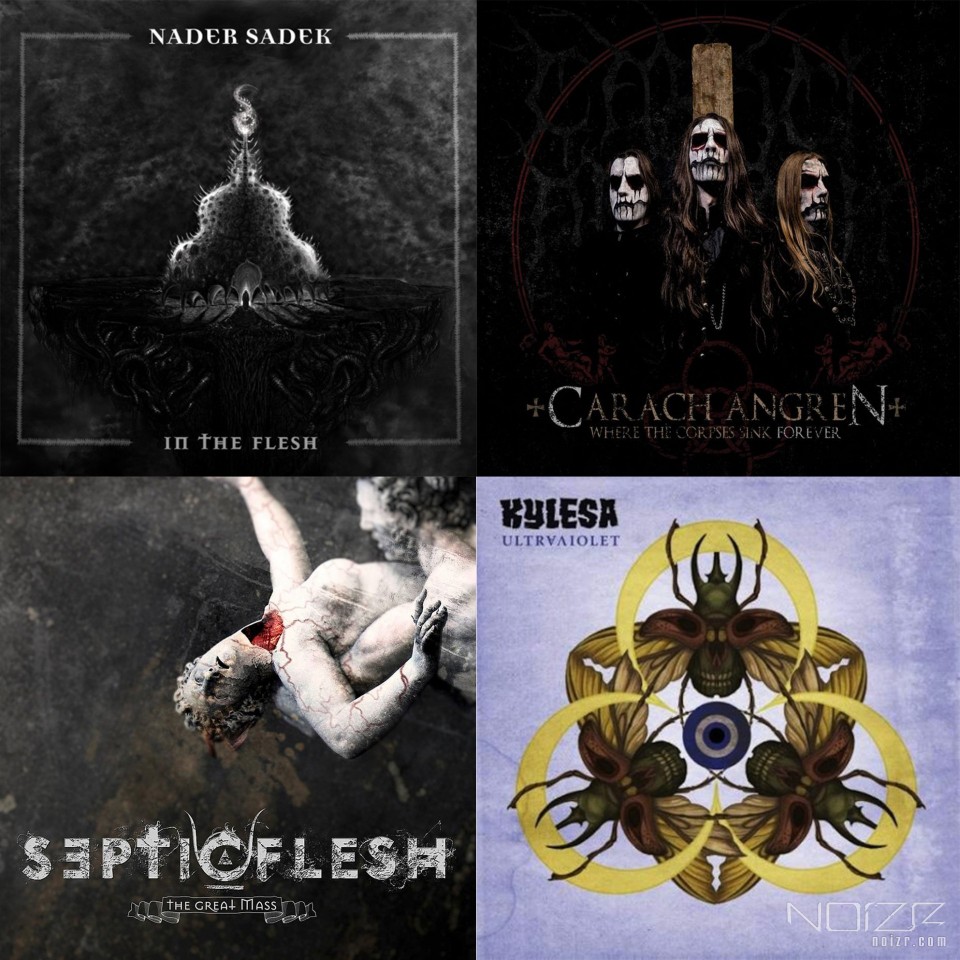 The French label Season of Mist has launched new albums stream. This time on YouTube were posted releases of the groups Septicflesh, Carach Angren, Kylesa, Engel, Nader Sadek, Twilight of the Gods and Saint Vitus.
The album of the Greek atmospheric/symphonic death metal band Septicflesh "The Great Mass", released in April 2011. All orchestral parts were recorded with the Prague Philharmonic Orchestra, including a full choir and children's soprano. "The Great Mass" was produced by Peter Tägtgren.
Tracklist:
The Vampire From Nazareth
A Great Mass Of Death
Pyramid God
Five-Pointed Star
Oceans Of Grey
The Undead Keep Dreaming
Rising
Apocalypse
Mad Architect
Therianthropy
"Where The Corpses Sink Forever" is the third full-length release of the Dutch symphonic black metal band Carach Angren, released in 2012. The album contains references to World Wars I and II, as well as the Vietnam War.
Tracklist:
An Ominous Recording
Lingering In An Imprint Haunting
Bitte Tötet Mich
The Funerary Dirge Of A Violinist
Sir John
Spectral Infantry Battalions
General Nightmare
Little Hector What Have You Done?
These Fields Are Lurking (Seven Pairs Of Demon Eyes)
"Ultraviolet" is a new full-length album by American band Kylesa, whose music style is described as "progressive psychedelic sludge metal".
Tracklist:
Exhale
Unspoken
Grounded
We're Taking This
Long Gone
What Does It Take
Steady Breakdown
Low Tide
Vulture's Landing
Quicksand
Drifting
"In the Flesh" is the debut and for now the only full-length album by American-based death metal band, which is named after its Egyptian-born founder and frontman Nader Sadek.
Tracklist:
Awakening
Petrophilia
Of this Flesh (Novus Deus)
Exhaust Capacitor
Soulless
Rusted Skin
Mechanic Idolatry
Sulffer
Nigredo in Necromance
"Blood Of Saints" is the third full-length album of the Swedish melodic death metal/industrial group Engel.
Tracklist:
Question Your Place
Frontline
Feel Afraid
Numb
Cash King
One Good Thing
Blood of Saints
Down to Nothing
Drama Queen
In Darkness
Journeys End
"Fire on the Mountain" is the debut release of heavy metallers Twilight of the Gods.
The band consists of five members: the vocalist Alan Averill (Primordial), the bassist Frode Glesnes (Einherjer), the guitarists Patrik Lindgren (Thyrfing) and Rune Eriksen (ex-Mayhem, ex-Nader Sadek), and the drummer Nicholas Barker, ex-musician of Cradle of Filth and Dimmu Borgir, who also has playing live with bands Anaal Nathrakh, Anathema, Exodus, Gorgoroth, Testament and others.
Tracklist:
Destiny Forged In Blood
Children Of Cain
Fire On The Mountain (1683)
Preacher Man
Sword Of Damocles
The End Of History
At Dawn We Ride
"Lillie: F-65" is the eighth full-length album of the old school American doom metal band Saint Vitus. The record was released in 2012.
Tracklist:
Let Them Fall
The Bleeding Ground
Vertigo
Blessed Night
The Waste Of Time
Dependence
Withdrawal