​Brutal Assault 23: Paradise Lost, Celeste, Exhorder and other bands announcement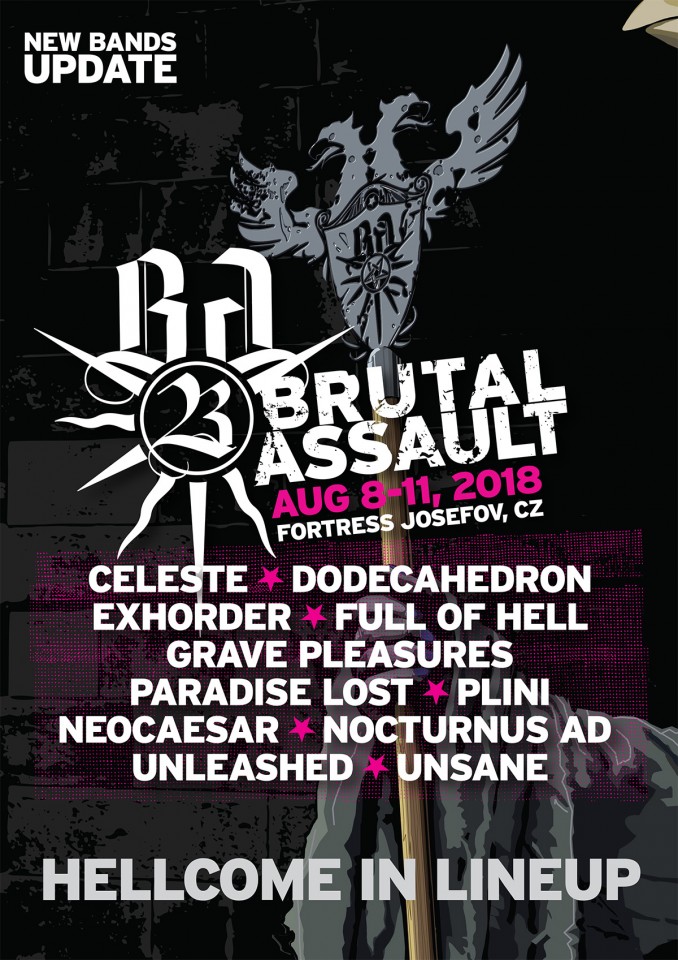 The organizers of the Czech metal festival Brutal Assault announced new lineup additions — the bands Paradise Lost, Celeste, Exhorder, Unleashed, Nocturnus AD, Neocaesar, Grave Pleasures, Plini, Unsane, Dodecahedron, and Full of Hell who will replace previously announced Nails.

This year's 23rd heavy music outdoor fest will be held from August 8 to 11 in the Czech city of Jaroměř. Among the previously announced members are the bands DYING FETUS, HATE, DIABLO SWING ORCHESTRA, BEHEMOTH, MINISTRY, WARDRUNA, CONVERGE, as well as AT THE GATES, THE BLACK DAHLIA MURDER, CARPATHIAN FOREST, PERTURBATOR and others.
Read also: 5 reasons to visit Brutal Assault festival
Full announcement: "PARADISE LOST have not only defined the gothic subgenre and raised doom metal to a new level, they can also be considered pioneers of an entire musical generation. Upon their formation on the ashes of other musical pioneers Nihilist, UNLEASHED were formed and quickly adopted the position of Chief Vikings of Swedish Death Metal scene, which they up to this day refuse to vacate. And speaking of pioneers, we're also extremely happy to welcome unique thrash powerhouse from the US to the bill, EXHORDER! Another groundbreaking act that will honor BA with one of its unique cosmic death metal performances is NOCTURNUS AD of Mike Browning!

NEOCAESAR will be invoking the best form of Dutch death metal once represented by Sinister and even though the band is recent spawn project, it is comprised of veteran former Sinister members. The current incarnation of Finnish post-punk phenomenon Beastmilk will please the fans under the moniker GRAVE PLEASURES, while the fans of progressive guitar work can look forward to the virtuoso PLINI! We will also welcome uncompromising UNSANE, brutal soundtrack of New York city cacophony and the toughest noise riffs which are able to attack with a fury of an angry beast.

Contemporary avant-garde with grim undertones will be summoned by DODECAHEDRON, while French CELESTE will cast gloom with their dark post-hardcore sludge. Aggressive and one of the best live acts FULL OF HELL will replace NAILS in the line-up, so get ready for walls of noise and massive explosions of furious rhythms and riffs. This is brutality and darkness in its purest form."