​Ascension festival to take place on June 13-15 in Iceland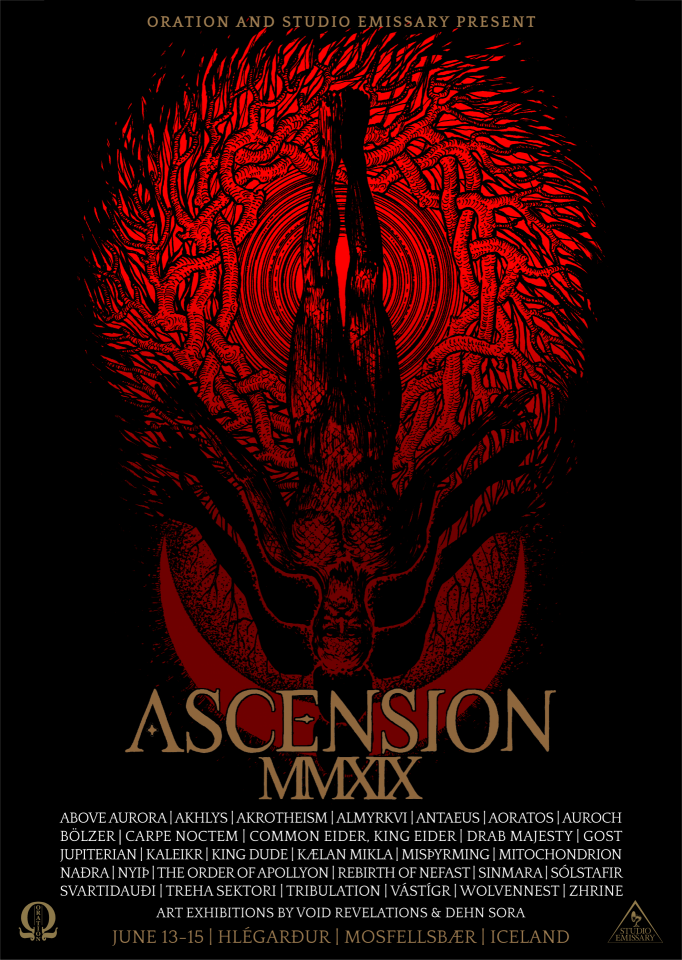 In the middle of June, Ascension Festival, one of the main black metal events of this year, will take place in Mosfellsbær, Iceland. The line-up of the upcoming event consists of outstanding artists of the modern underground scene, most of whom have Icelandic origin. In addition to the performances of the acts, the festival also includes an exhibition of works by French artist and designer Dehn Sora (Amenra, Blut aus Nord, In the Woods..., Merrimack, Sektarism) and German photographer Void Revelations (Misþyrming, Whoredom Rife, King Dude, Chelsea Wolfe).
"Ascension festival will without a doubt be a very unique experience, given the location and time of year", Naas Alcameth (Akhlys, Aoratos).
Ascension Festival line-up:
Above Aurora (PL/IS)
Akhlys (US)
Akrotheism (GR)
Antaeus (FRA)
Almyrkvi (IS)
Aoratos (US)
Auroch (CAN)
Carpe Noctem (IS)
Common Eider, King Eider (US)
Drab Majesty (US)
Gost (US)
Jupiterian (BRA)
Kaleikr (IS)
Kælan Mikla (IS)
King Dude (US)
Bölzer (CH)
Misþyrming (IS)
Mitochondrion (CAN)
Naðra (IS)
NYIÞ (IS)
The Order Of Apollyon (FR)
Rebirth of Nefast (IRL/IS)
Sinmara (IS)
Solstafir (IS)
Svartidauði (IS)
Treha Sektori (FR)
Tribulation (SE)
Vástígr (AT/IS)
Wolvennest (BE)
Zhrine (IS)
Announcement from the organizers:
"Very much so the spiritual successor to Oration, the Ascension festival aims to offer an eclectic and esoteric experience, with a strong emphasis on Icelandic and international Black metal.

The festival will take place at Hlégarður in Mosfellbær, June 13 — 15 (Thursday — Saturday). We're delighted to have secured this venue, as it provides the perfect setting for our midsummer celebration. Located just outside the city limits, the venue and adjacent campsite area are within close range of all needed services and amenities, while providing a serene natural setting surrounded by mountains and the desolate, unearthly landscapes Iceland has come to be known for.

Mosfellsbær, the town where the venue is located, is a suburb of the greater Reykjavík area and is approximately a 20 minute drive from Reykjavík city-centre, or a 35 minute bus-ride via public transport. The option of taking a shuttle bus will also be available, along with the optional use of a camping site located 5 minutes walk from the venue.

In stark contrast to Oration, Ascension is a mid-summer event, giving you a chance to witness first hand the arctic phenomena of the Midnight Sun. Join us in this jubilant celebration of Ascension".
Tickets for 14,900 Kr (Approximately €107 / $123) are available here. More detailed information about the festival is available in Ascension MMXIX event on Facebook.
Updated on May 26. The previously announced act Mgla will not be able to perform at the upcoming festival, instead the Swiss band Bölzer will play the set at the event.