​Amorphis announce new album title and release date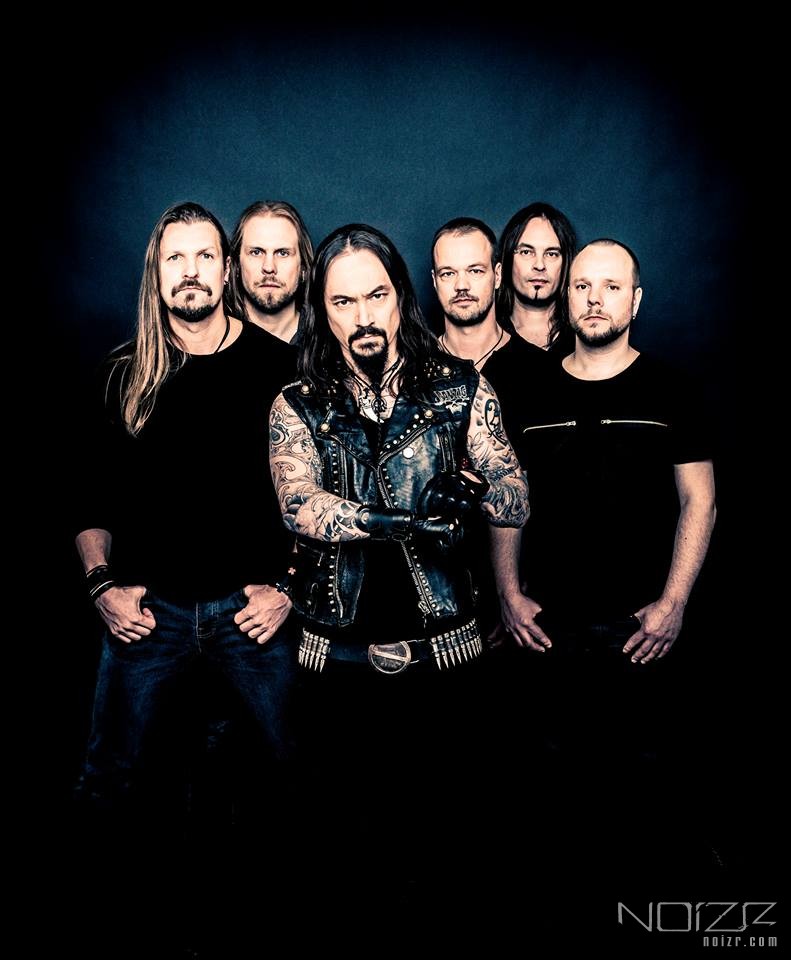 The Finnish metallers Amorphis will release their new album "Under The Red Cloud" on September 4 via Nuclear Blast. Cover artwork was created by the French artist Valnoir Mortasonge.

The frontman and guitarist Esa Holopainen comments: "Valnoir is well known from his works for Laibach, Paradise Lost, Watain, Behemoth and many more. It was a great pleasure to work with him as he catched the lyrical topics really well. Colors and details describe the music perfectly."

"Under The Red Cloud" is produced by Jens Bogren who did amazing job with the album. There's a lot's of elements in the songs but every note and element is in perfect harmony so that the result is fucking heavy and melodic. All I can say is that "Under The Red Cloud" will be in my personal Top 3 Amorphis albums that we've ever done."
Amorphis gives several concerts during European summer festivals to celebrate album "Tales From The Thousand Lakes" 20th anniversary. In September, the band will go on tour in support of their upcoming "Under The Red Cloud" release. Amorphis will also give some shows with Nightwish and Arch Enemy.
Tracklist:
Under The Red Cloud
The Four Wise Ones
Bad Blood
The Skull
Death Of A King
Sacrifice
Dark Path
Enemy At The Gates
Tree Of Ages
White Night
"Under The Red Cloud" cover artwork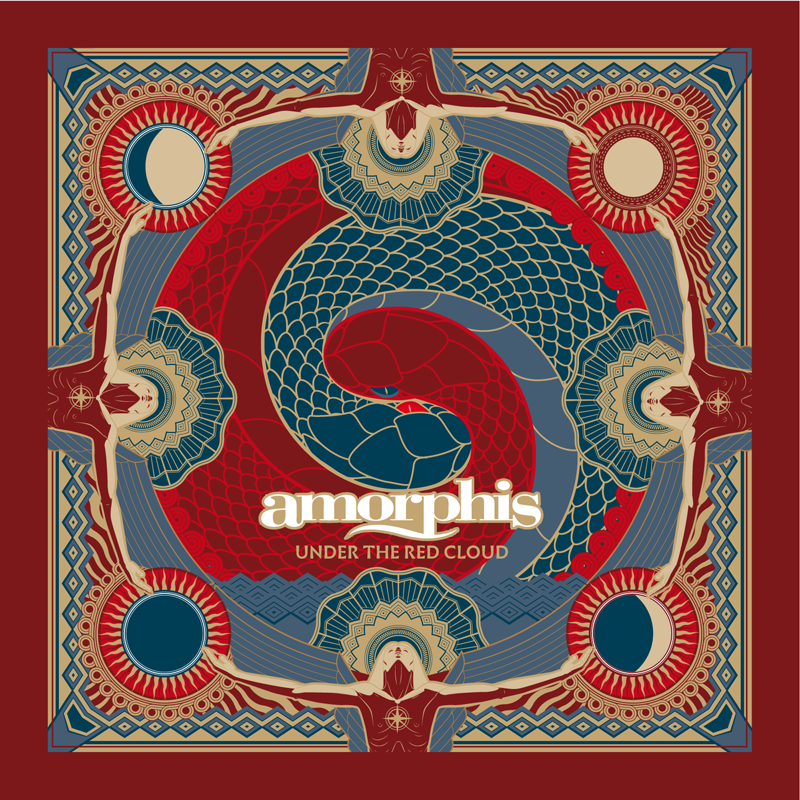 Festival tour dates:
June 16 — Bulgaria, Burgas @ Summer Chaos Festival
June 19-21 — Belgium, Dessel @ Graspop Metal Meeting
June 27 — Finland, Helsinki @ Tuska Open Air
July 3 — Finland, Turku @ Ruisrock
July 17-19 — Finland, Kouvola @ Ilosaarirock
July 30 — August 1 — Germany, Wacken @ Wacken Open Air
August 7 — Portugal, Vagos @ Vagos Open Air
August 13-15 — Germany, Dinkelsbühl @ Summer Breeze
August 14-16 — The Czech Republic, Hodonin @ Made Of Metal Festival
August 29 — Russia, Moscow @ Moscow Metal Meeting
Tour dates in support of "Under The Red Cloud":
September 19 — Finland, Helsinki-Tallinn @ Radio Rock Cruise
September 26 — Finland, Oulu @ JaloTuska / Oulun Jäähalli
October 9 — Finland, Lahti @ Finlandia Klubi
October 10 — Finland, Helsinki @ The Circus
October 16 — Finland, Turku @ Logomo
October 17 — Finland, Kouvola @ House Of Rock
October 22 — Finland, Tampere @ Pakkahuone
October 23 — Finland, Seinäjoki @ Rytmikorjaamo
October 24 — Finland, Joensuu @ Kerubi
October 30 — Finland, Jyväskylä @ Lutakko
October 31 — Finland, Leppävirta @ Vesileppis-Areena
Joint concerts with Nightwish and Arch Enemy:
November 16 — Denmark, Copenhagen @ Falconer
November 17 — Germany, Rostock @ Mau (Headline Show)
November 18 — Germany, Hamburg @ O2 World
November 19 — Netherlands, Amsterdam @ Heineken Music Hall
November 21 — Germany, Oberhausen @ Arena
November 22 — France, Caen @ Le Cargo (w / ARCH ENEMY)
November 23 — France, Lyon @ Hall Tony Garnier
November 25 — France, Paris @ POPB
November 26 — France, Toulouse @ Le Zénith
November 27 — France, Epinal @ La Souris Verte (w / ARCH ENEMY)
November 28 — Switzerland, Basel @ St. Jakobshalle
November 29 — Italy, Bologna @ Unipol Arena
November 30 — Switzerland, Lausanne @ Les Docks (Headline Show)
December 1 — Germany, Munich @ Zenith
December 2 — Austria, Worgl @ Komma (Headline Show)
December 3 — Germany, Stuttgart @ Schleyerhalle
December 4 — Germany, Frankfurt @ Jahrhunderthalle
December 5 — Germany, Nuremberg @ Arena
December 6 — Germany, Memmingen @ Kaminwerk (Headline Show)
December 7 — Czech Republic, Prague @ Tip Sport Arena Prague
December 8 — Austria, Vienna @ Stadthalle
December 10 — Romania, Bucharest @ Polivalenta Hall
December 12 — Hungary, Budapest @ Arena
December 13 — Slovakia, Bratislava @ Majestic Music Club (Headline Show)
December 14 — Germany, Leipzig @ Arena
December 15 — Berlin, Germany @ Max-Schmeling-Halle
December 16 — Luxembourg, Luxembourg @ Rockhal
December 17 — Belgium, Antwerp @ Lotto Arena
December 19 — UK, London @ Wembley SSE Arena — sold out
December 20 — Germany, Cologne @ Essigfabrik (Headline Show)