Same old Rammstein, but already 10 years later. Review of band's new album
— 8/10
Months of rumors and teasers. Guesses and discussions. The level of impatience is on the edge. Any information as valuable as gold. To tell the truth, the last time I remember — similar craze was made by "Liebe ist für alle da" (2009) release. But there were just 4 years since "Rosenrot" (2005) came out. And now it took almost 10 years for the band to release a new one.
This is one of the reasons why I'm not afraid to say that on May 17 we've got not only one of the most awaited Rammstein albums, but also one of the most anticipated albums of the year. Self-titled. Extremely weird and full of unspoken words. At the same time familiar and so unlike the others. Matured. Gloomy. Topical and honest. Open as far as enough desire you have to explore it.
Rammstein has never been a typical rock/metal band. From the very first album Till Lindemann's lyrics and the project's work in general touched the things that are literally in the air. Sometimes tough and dirty, but always honest questions of everyday life. The subject of how this world and the interaction of people in it are arranged. Often through the prism of black humor, sarcasm, and vulgarity, but always true. The musicians carried this approach to songwriting through the years, from time to time showing themselves as masters, who are able to create music that has no shelf life.
Read also: Till Lindemann presents a collection of author poetry "Messer" in Kyiv

Lindemann's latest creative urges, in particular, the solo project with Peter Tägtgren, set the bar, below which Rammstein would not have dropped. And the seventh studio album — a collection of topical social themes and horrible perverted stories — is direct evidence of this. The CD, which collected 11 full-fledged tracks, will require from you some time and desire to dig deeper. Willingness to realize that already 10 years have passed and it is time to move away from "Reise, Reise" and "Rosenrot" sounding.
The first thing you feel while listening to "Rammstein" — is the turmoil and lack of something usual. There are a lot of electronics ("Ausländer", "Weit Weg") and lyrics ("Diamant", "Was Ich Liebe"). There is overdrive and Muse motives ("Sex"), French and Russian languages ("Ausländer") and Lindemann's literal hysteria ("Puppe"). Let's just say, the new fans of the band will not move a muscle, but the old ones will have to roll the record at least twice.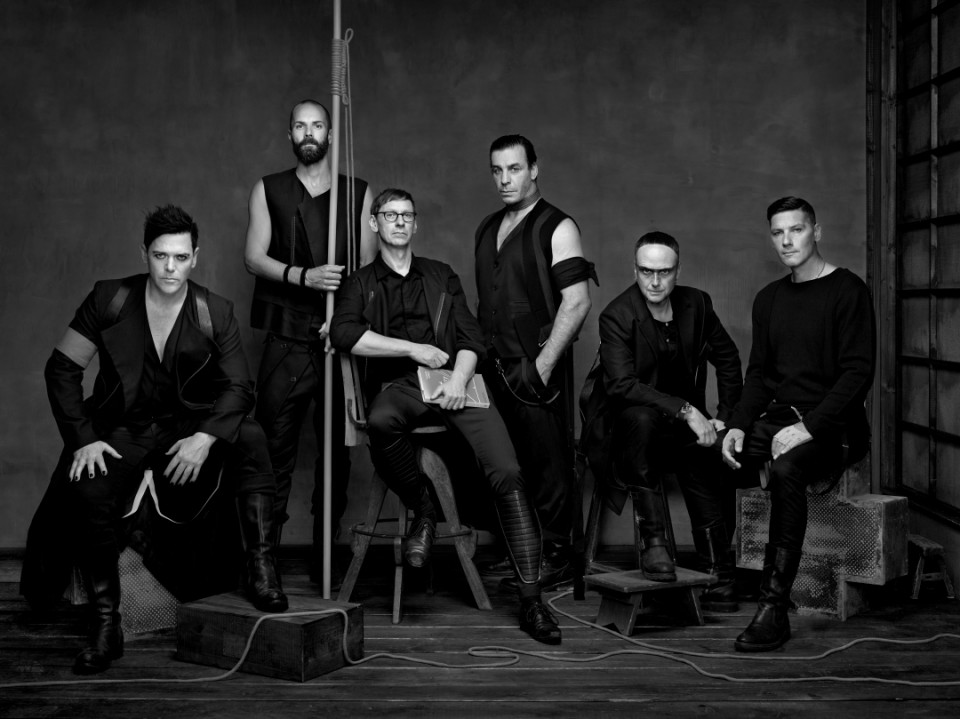 While listening to the alum for the second time you realize that this is the same old Rammstein with their courageous, melodious vocals and tight guitars. The same Rammstein with powerful percussion and coherence of each track, which also contains a strong semantic part. But this time the band went further — up to date. I succumbed to the desire to step aside from the predecessor releases and try something new. Did it work out well? Definitely yes, even if the new songs do not fit well the hits of "Sehnsucht" or "Mutter".
While trying to repeat something like LIFAD, Rammstein would risk creating an insipid album. In this case, fans will see one more side of a multifaceted boulder, capable of surprising, regardless of age, trends and previous successful achievements.
Listening to "Rammstein", take some time to make translations, because now you have not only a new album, but also one of the most profound collections of Lindemann's lyrics. In these 46-plus minutes the frontman put some alarming episodes from the German history ("Deutschland", "Radio"), horror and gloom of hopelessness ("Puppe"), naughty, everyday essays ("Ausländer", "Sex"), and also uneasy love, romance, naivety and stupid deeds ("Was Ich Liebe", "Diamant", "Weit Weg", "Tattoo").
Read also: Peter Tägtgren on Pain, Lindemann, Hypocrisy, and work at studio
The album has at least few tracks that will easily fit the setlist of a great live show. For the song "Puppe" the band will definitely make a video, as this is one of the most powerful and uncommon records of Rammstein, that tears your consciousness to shreds. Time and the band's upcoming concerts in Europe will show how far these guesses are true.
At this stage, it would seem, all the cards are revealed. However, the design of the album is still its main mystery. A match on a white background is an unsolved symbol and theories like "Rammstein love fire" sound too simple in this case. Probably the musicians will reveal their ideas in the closest future. But meanwhile, when I see this match I can't get rid of the feeling it ends badly for Flake.
Reviewed by Yurii Somov