Check 'Em All: Experimental black metal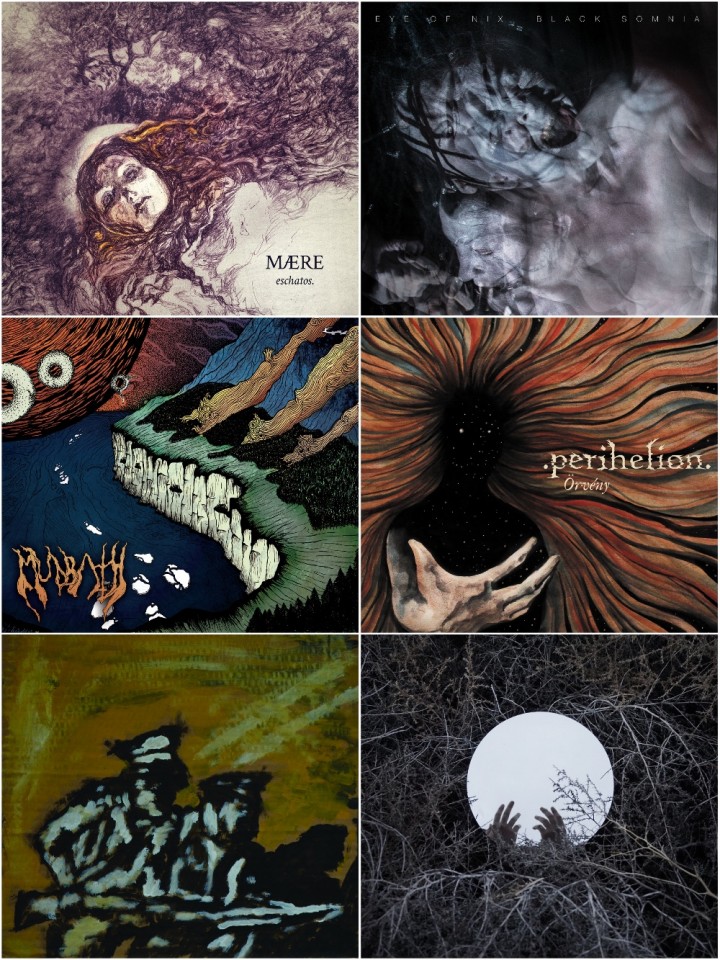 A selection of this year's avant-garde albums, combining black metal with other musical styles. So, meet the releases from the Latvian metal act Eschatos, the American bands Eye of Nix and Wreche, the Hungarians Perihelion, the Polish project Wędrowcy~Tułacze~Zbiegi, and the French band Mudbath.
"Mære" is a EP from the Latvian band Eschatos, which plays progressive black metal with catchy female vocal parts. The mastering of the two-track release was handled by the Swedish musician, composer and engineer Dan Swanö, who has also worked with Asphyx, Avulsed, Bucovina, Katatonia, Marduk and others.
"Black Somnia" is an avant-garde release from the American act Eye of Nix with amazing parts of clean female vocal. In addition to black metal, the band's music also combines such styles as doom and sludge metal, which together with otherworldly vocals creates an excellent viscous and atmospheric music.
Mudbath — "Brine Pool"
"Brine Pool" is the second album from the French band Mudbath, combining in their music sludge, doom and black metal with melodic ambient sound. Due to its gloomy atmosphere, this is the darkest release of the whole selection.
Perihelion — "Örvény by Perihelion"
In November of this year, the Hungarian metal act Perihelion released its new full-length release, in which progressive, post-rock and black metal are skillfully weaved together. Complementing the music with superb clean vocal parts, the band created a very interesting mix, which sounds unusually fresh and exciting.
"Korpus Czechosłowacki" is a EP from the Katowice-based band Wędrowcy~Tułacze~Zbiegi. The album, dedicated to the Czechoslovak Legion, is a crazy avant-garde record with a minimized presence of black metal and lyrics which are completely sung in Polish.
The self-titled debut album of the American metal act Wreche, which features two members — a drummer Barret Baumgart and an insane, in a good sense of the word, pianist and vocalist John Steven Morgan. I, personally, had a mixed impression of the band's LP. On the one hand, it's very interesting to listen to the fascinating duet of the pianist and drummer, and on the other — the general impression of what I heard was spoiled by the vocal. In my opinion, if the release was just instrumental or with willfully slow vocal parts, it would be much more better, since fast music with screaming caused an auditory overload for me. However, most likely, the creators wanted to achieve exactly this effect, so I think someone might like such a performance style. Anyway, this is definitely that kind of release that you should check out and make up your own opinion about it.
By Anastezia