"I'm proud of being called all-female thrash metal band": Interview with Nervosa's Fernanda Lira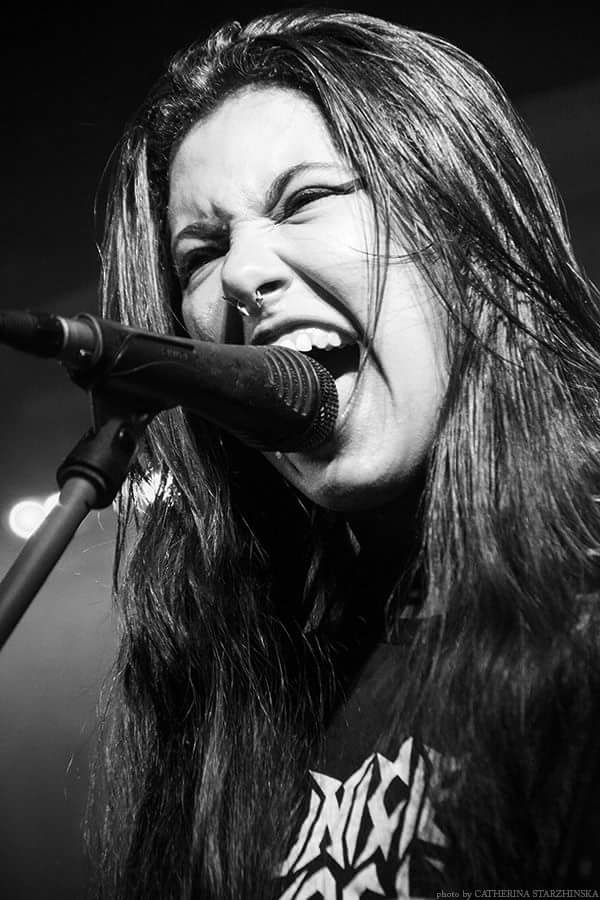 Nervosa is a thrash metal band formed by three girls from Sao Paulo, Brazil. During the six years of its existence, the group has signed a contract with the leading European label Napalm Records, released two full-length albums and played more than 200 concerts. Nervosa's shows stand out by an incredible energy and charisma of its members, who give 100% of themselves at their every performance.
On October 17, there was the first and only concert of the Brazilian trio in Kyiv, Ukraine. Thanks to the label Napalm Records, we were able to talk with the band's bassist and vocalist Fernanda Lira about the difficulties and delights of the touring life, sexism, and conservatism in metal.
Today, you have performed in Ukraine for the first time. What are your impressions of the show and the public?
Fernanda Lira (hereinafter Fernanda): It was awesome! We always like to play in countries for the first time because we never know what to expect and how it will be. We know that not every band, which perform at the summer fests, come here to Ukraine. For us, it's a good sign because it's like in South America, we also don't get so much shows as people get in the US or Germany, for example. And I know what it's like and this show was held exactly as I expected it. The crowd was very passionate, very screaming, very loyal to the music we were playing. That what we expected and it fulfilled like 100% of our expectations.
It's because you did a great show.
Fernanda: Thank you! [smiles] I'm actually very influenced by the crowd. Of course, I always give 100% of myself at the show, even if it's "a cold show". But when the crowd gives a good response, warm, like it was today, it makes a show easier and then I get more and more excited. I feel like I need to give my everything to everyone. It was really, really cool.
[After the gig in Kyiv] everyone was saying sorry, "Sorry, it was Monday, that's why there were not enough people", but if you do a show on Monday in Brazil, it's not going to be like all these people. It was really cool and we are really happy. And what is the most important, everyone who was there has a lot of fun. Hey! Hey! Hey! [Fernanda makes horns up — Noizr]
The crowd definitely wanted more. Why you didn't play a few songs for an encore?
Fernanda: We usually have a longer set, but we have two things that blocked us from having a big set on this tour. The first is our ex-drummer [Pitchu Ferraz — Noizr] left us in the middle of the tour in July. And Samantha, who is the drummer of Dead Asylum, helped us on the Canadian and the US tour, as well as with Destruction tour, but she hadn't enough time to learn all the songs. And she only learned like 12 songs that we usually play, so we had to cut down three songs. It was one of the reasons because she is doing a great favor for us and we can't push Samantha to her limit. So, I hope everyone understands that. And the other main reason is that, unfortunately, Prika, our guitarist, is really sick. On the day before this gig, we played the show and we had to call the ambulance and took her to the hospital. That's why we have to play smaller shows because she needs to rest. We don't do anything to cancel any shows because we want to play here for the people. So, it was a 45-minute set, which is very short, but I hope people have fun. There were a lot of moshpits even without me asking, "Hey, can you do that!?" [says in extreme vocal manner — Noizr]
"When you're a metalhead in Brazil and you have a band, you're actually a warrior."
Over the past few years, you have visited a lot of countries and cities. When you have free time between concerts, where do you usually start your acquaintance with a new town?
Fernanda: Sometimes it's really difficult to walk around when you're on tour. For example, today, I would love to have walked around Kyiv. But usually we get here [to the concert venue] or we go to the hotel to have a rest for a few hours, or we have soundcheck, or lunch. So it's always like a big rush, we rarely have some time to visit a city for real. But on this Destruction tour it was easier. If we got to the city at 12 am, then we had a soundcheck at 5 pm, I spent some time to do some work, some emails, but after that I said, "Ok, what's around?". And if it was a 30-minute walk to the Cathedral or park, or whatever, I just walked. I used the Internet and Google Maps a lot to see what's around.
Once, we had some spare time during Destruction's tour, but we were in the industrial area far from the city it would have been like two-hour walk to somewhere and we were like, "Suck, that suck…". But whenever I have time I like to go and walk around the city because I think it makes the tour richer. You're not here only to play, but also to know other culture and other people. I try to complete experience and get my best. I can go to some vegetarian or vegan restaurant, walk around a park or just sit somewhere and listen to music.
I really like Amy Winehouse. And one time, when we were in London, we played in Camden where she lived. One day before, I planned the whole tour, I went to the house, the park where she used to go, to the market where was her statue. So, sometimes I do some planning. But it doesn't happen every day. From 100% of touring, I would say that 50% of the time you get a chance to know the city when the other 50% is a just pure rush, pure craziness is going on.
One of our respondents told us that his band has the rule of three "S" — it's sleep, shower, and soup, and if all of them you meet during one day, it's the coolest thing that can happen on tour. And what gives you the most pleasure during the tour?
Fernanda: I know it's going to sound as a cliche, but the most pleasure during the tour is the moment when I'm on stage. Because that's what I work for, that's why we answer thousands of emails and write songs for. It's just to be on stage, playing for people, making them forget about their lives for a night and just enjoy some thrash metal. I'm for 100% happy when I'm on stage and you can see it. But also when I have a chance I like walking around, it's pretty cool too. And of course, showers also [smiles]. But with this kind of routine we're ok, only the last two days were tough for us, because there was a fire on the bus...
Wow! What had happened?
Fernanda: The engine of the tour bus fired up. That's why we spent the night at the gas station, somewhere in Belgium. It was so crazy for us, we didn't have time to take a good shower.
I can imagine. Perhaps, all your stuff was permeated with the smoke?
Fernanda: Oh, yeah, that was crazy!
Besides the engine, were there any damages?
Fernanda: No, nothing. But we had to change the bus and that took a lot of time. It was really tough.
Besides positive impressions, tours, unfortunately, also bring some negative experience. You've just mentioned the fire, and in February you posted that you were robbed in San Francisco, someone stole your merch and even a snare drum. Tell us how it all ended? Have you called the police?
Fernanda: It was terrible. I don't know what is wrong with Nervosa, but we get a lot of crazy stuff. Like, for example, that fire in the bus and then Prika went to the hospital... A lot of such things happen with us. Like some of us was forgotten at the gas station [smiles].
You forgot someone at the gas station?
Fernanda: Yes, sometimes it happens on tour [smiles]. Yeah, lots of crazy things happen during the tour with this band. I don't know what it is, but sometimes the things are very jinxed. We have some bad luck sometimes, but it always comes together with a good luck. Everything that happens, in the end, it's all fine. It's never like somebody gets injured or something really bad happens — it's all ok in the end. But with this merch thing it was crazy. I mean, the guy who robbed us, he broke into our car and stole all our merchandise. We were at the beginning of the tour, it was like 250 t-shirts, 250 CDs — it was a lot of stuff. We saw on the camera later, it was one guy, but he was an addict and he was desperate. Then I personally have to negotiate with the homeless people on the street to find out who have done that because we saw some homeless people wearing Nervosa's t-shirts.
Then we called the police and they found some pieces of stuff that were missing, but then some guy from homeless community on the street he helped me out and they found the t-shirts, they found the guy who took them and asked him to come and apologize to me and give the CDs back. And that guy came and said, "I'm sorry, I'm addicted..." They asked some payment and I gave them food that we had, water, some t-shirts, and that guy was like, "Please, just never forget my name". And I never do that, his name is Jerome [smiles]. Without Jerome, we wouldn't have gotten all the merchandise back and we would have been fucked because it's a lot of money and we would have paid 6000$ for the people who produced our t-shirts.
He was a very helpful guy. In the end they all were good people, they said, "You know, we live on the street, but we're not robbers, we don't do anything like that, we don't rob, we don't rape or kill people and we don't sell drugs, because we don't want the police to be around. Because we have jobs, we just lost our homes and that's why we live on the street. We don't want the police to come around and beating us up. This guy, who robbed you, he is a new one, he didn't know the rules of the streets so it's not gonna happen anymore". We were so lucky to get all the merchandise back, except for a few t-shirts.
"There are a lot of people who hold on metal as a way of living and they're actually cured of depression and stuff. I know that because I've got emails from fans like, "Your music saved my life".
In Ukraine many metalheads get used to the idea that to become famous in your homeland you should make a claim about yourself abroad. And what about Brazil? Do local metal bands receive a real support in the home country?
Fernanda: Yes, we get a lot of support in Brazil and America because we didn't do like, "Let's do Europe, let's do North America". No, we first played in our country and built there a fanbase, then in South America, Latin America and then in Europe and North America. In my opinion, it's important to build a fanbase at home. Because when you come back home there are people that always support you and I think now we have a really great fanbase in Brazil. And as far as I know, with all Brazilian bands is the same thing. You first grow a lot in Brazil, you get the support, then some fans spread the word around in other countries and then you can go to other countries.
So, can I say that you recommend beginner bands to start to promote their music with their own country?
Fernanda: I would recommend to anyone who has a band to start with your homeland and what is around you and then go for the bigger market. That's how it works. Some people look at our Facebook or Instagram and say, "Oh my God, almost two hundred thousand likes!", but most of these likes on Facebook are from our fanbase in Brazil and South America, Latin America, then North America, then Europe. It takes a lot of work, but it's always better to have a huge fanbase where you come from. All Brazilian bands have a huge support at home. The problem is that people don't know about us because of lack of opportunities. There is no money, it's hard to make a living in Brazil. So, when you're a metalhead in Brazil and you have a band, you're actually a warrior. We just have a lack of opportunities, lack of money to have a quality production, but we have very solid metal scene here, awesome fans and awesome bands.
I know that metal is a global community and I think that metalheads are the most loyal fans that you can find around, we buy CDs, we follow bands, but in South America, we take metal very seriously. We know all the bands, we know everything, we support bands, we always digging for a new material and I thought that it was very natural, but then I started touring and seeing that Brazilian and South American people we're more intense, we always thirsty for a new material, for new zines, for new stuff and I think it's pretty cool.
In Europe, especially in its Eastern part, there are many conflicts between metalheads and religious activists (one of the great scandals was Behemoth's arrest in Russia and the latest one — the conflict between the Russian deputy assistant and Belphegor's leader). Are there such conflicts in Brazil?
Fernanda: I think religion can be a problem everywhere. That's what "Guerra Santa", our new song in Portuguese on our latest album, talks about. I'm really ok with people having religion, I'm not entire religion person, because I respect people's choices and ideologies, I respect people. If religion going to make you feel fine in some way — just go for it. But what I don't like about religion when it gets too extreme. It's the same thing when politics get too extreme, when it gets fucked up, twisting other stuff.
Because, as far as I know, religion should be like "be good, be happy, make other people happy...", but that's not what religion is doing nowadays. It's getting extreme. For example, metal doesn't hurt anyone. Metal actually saves life around and we know it. There are a lot of people who hold on metal as a way of living and they're actually cured of depression and stuff. I know that because I've got emails from fans like, "Your music saved my life". That's what metal does, but religion doesn't take it this way. They think we're Satanists, we're try to convert people into bad stuff, but it's a pure bullshit. I think you should leave people to do their arts because the same way as some people believe in God, there are people that don't believe in God and we have to respect both because it's different ideologies. If you want to believe in God, I'm fine with you, if you want believe in Satan or you don't want to believe in anything, I'm fine with that too, because I respect people and their opinions. So, this is what I don't like about religious people, they don't respect other people's beliefs and that's why I think all conflicts appear.
We have some stuff like that in Brazil, but it's ok with metal. We don't have such extreme as in Russia, the bands don't get banned, but we have some extreme like protests by religion people. I think for metalheads it's not that bad, it's really bad like for homosexuals, for tattooed people, they just not very respectful [to them] and it happens in Brazil too, but metalheads are still ok.
Sometimes we're attacked on the Internet, but we don't mind. Right now religion is affecting the government a lot, you can see how many religious people are there, trying to ban homosexuals or people with tattoos from public jobs and stuff like that. So, yes, I don't really like when religion mixes with other fields like art, politics, because we all shall have freedom for doing stuff separately.
Religion, so-called "Antichrist" themes are quite popular in thrash metal. What is your attitude to such topics?
Fernanda: I respect whatever you write on your lyrics, as long as you don't offend anyone existence. If you write anything about women, gays, black people or whatever, I'm gonna be pissed off, because you disrespecting other people's existence and history. This I don't like. But if you're saying your opinion, your believes — I don't mind. We should respect people's points of view and everything. I personally don't mind, I'm really afraid of Satan and occult stuff, but I still listen to pretty much occult and dark bands. I listen to Cannibal Corpse and they talk about martyring dead corpse, fucking girls with knives, but I don't actually believe that everyone fuck girls with knives or any corpse to be violated. Lyrics in metal and some genres is like some world of fantasy too. People just write stories and fables. Let people work on their creativity. I think we have lack of respect nowadays. Trying to force people to believe in what you believe is not the way, and history shows us it, that's why here a lot of wars and stuff.
"I'm proud to be a woman in metal because there are not many of us, and we know how difficult it is, because we suffer from a lot of pressure, sometimes we're not taken seriously, sometimes it's hard to get in a band, sometimes if you're in a band you're called the whores like, "You get shows because you fucked promoters".
Nightwish's vocalist Floor Jansen once said that it's absurd to call a category of music "female-fronted metal", because such bands like Otep, Epica or Arch Enemy don't sound anything alike. And how do you feel about the fact that you are considered to "female-fronted metal" and "all-female band"?
Fernanda: I really don't mind. I don't mind being labeled as all-female thrash metal band from Brazil because that's what we are. I think the reason why I don't mind this label because it's still something new and in metal everything have been pretty much done already. We have folk metal with an accordion and a violin, we have symphonic metal... So, nowadays when people want to talk specifically about a band, they usually talk about its differences, and girls in metal is still something different and rare. We get a lot of girls playing, but compare to guys playing it's not a lot, we have like 85% men in metal and maybe 15 of girls.
And I'm a feminist, but I really don't mind this. I think it's good to be labeled as female thrash metal, because it's something badass. Girls playing metal it's not something bad, it's actually pretty cool.
We're a few girls in metal we should be proud of that we're trying to do something to make changes. We're all-female band in metal and, yes, we're proud of that. And I happy to inspire girls to be in bands and play instruments. That's why I really don't mind. As long as we're doing something to get like more equal in metal, I think, it's not a problem. Many girls don't like to be labeled, many friends of mine say, "Headbanger is a headbanger, metalhead is a metalhead, it doesn't matter if you're a man or a woman". No, I'm proud to be a woman in metal because there are not many of us, and we know how difficult it is, because we suffer from a lot of pressure, sometimes we're not taken seriously, sometimes it's hard to get in a band, sometimes if you're in a band you're called the whores like, "You get shows because you fucked promoters". So it's not easy, that's why I'm proud of being called all-female thrash metal band. Fuck, this is badass! And if there are more girls who would like to joint female-fronted bands, just do it. We need more badasses. Something different in metal.
You look at us and understand that it's possible to be a girl and to be a metalhead and to have a band and to live the dream. That's the important thing to represent something to people. As long as I feel that I'm representing and inspiring some girls, you can call me whatever you want.
Based on the previous question, some female musicians want to be ranked to metal genres without references to their gender. And what changes would you like to see in the metal community? Maybe, solution the problem of sexism?
Fernanda: Definitely! We all have this impression that metal is very open-minded, because usually metalheads are very sharp-minded, very intelligent and cultural people, I can tell that about my friends and everyone. But still I see a lot of conservative metalheads around which be like, "Girls in metal, it's like gays in metal". I think it have to be changed, because metal is subversive kind of music. We're underground, we're against all, everything society's beliefs, we wear black, we look badass, we listen to extreme music with people's screaming like for example Cannibal Corpse talking about weeping corpses. So we all against society. So if you're against society and you're so conservative, it doesn't make a lot of sense. If you're so subversive with your music and you represent something which is so rebel and then you're very conservative, you don't like women playing, you don't like this or that, so you're against your own genre, your own tribe. I think we should work on metal being less conservative, more open-minded and supportive to our community.
In August, you gave the interview to Napalm TV together with Mortillery's and Jinjer's frontwomen. Have you ever planned to record a joint track with the fellow musicians of your label Napalm Records, or maybe with the other bands?
Fernanda: I would love to! I know that Jinjer is from Ukraine. I don't know maybe they're touring because I was thinking maybe they are around [smiles]. But what I like about Napalm Records is that they have a lot of women. They really like and appreciate bands that have women and they do something to have more girls in metal and we have many of them: Xandria, Leave's Eyes, Mortillery, Jinjer, Nervosa, Huntress, Alissa White-Gluz who has recently signed… So, we have a lot of girls and I think it's pretty cool. I would love to record, because one day when they would up to I would definitely do that. We have Miranda from Mortillery, she plays bass, then we have our drummer, couple of guitarists and singers, we can do like a supergroup only with girls [laughs]. That would be great! But I think right now the bands are very busy with tours, but at some point if there is a chance I would love to do something like that. To encourage more girls to play metal — I would love that, but right now we have never talk about it. I'm very close to the Mortillery's girls, especially Miranda. So maybe, that's a good idea and a good question [smiles].
Dimebag Darrell mentioned that he used to skip school and paint his face with Ace Frehley Kiss make-up, any stories how did you come up to metal?
Fernanda: I have many stories because my dad is a metalhead, so since I was a little child I used to listen to metal. I was born and raised in the metal environment. So, since I was 6-years old I was really into Kiss. My dad had a very nice imitation of a leather couch, some drumsticks, and a guitar. He played the guitar like bass and I played the drums on that leather couch, [we performed] something from "Kiss Unplugged" album that I loved [smiles]. And sometimes I did the bass and my dad did the drums on the couch because it sounded really cool.
That was actually my beginning with Kiss and Iron Maiden. So most of my stories are [associated] with my dad and I have been through a lot with him or with my friends. We got the craziest stories in trips like sleeping in lines for watching the bands like two days before, being cold or peed in a beer cup because you don't want to go to the bathroom and lose the front row.
I got many stories, yeah... These things with playing stuff are my very early memories. Then with my friends. Like going to the hotel after bands. There is one good story. We love Venom. And my friend, my dad, and I, we were going to see Venom for the second time playing in Brazil. The first time was in 1986 and my dad was there, I wasn't even born. And when they were coming for the second time my dad was out of money he was going through the bad phase and my friends and I we bought him a ticket for Venom's gig. He went to the gig and he was like, "Ok, now let's follow Cronos I want to take a picture with him". Then we followed the band, my dad was a driver, we were listening to a lot of metal, breaking stuff while following the van. And Cronos noticed us, so then we stopped at the red light right next to him, he opened the van's window, he said, showing Jack Daniel's, "Cheers, metalheads!". Then we followed him into the hotel and he took the pictures with all of us and he said to my dad, "I'm proud of you. You're a metalhead, you have a daughter who is a metalhead too". So all of my best stories and memories are because of metal. I was born and raised in metal. So, all my boyfriends, all my friends, and experiences are related to metal. That's why I'm so intense on the stage, I feel like I'm living the dream.
Interviewed by Anastezia and Dmythro
Prepared by Yuri Somov and Anastezia
Noizr Zine thanks Napalm Records for helping to organize the interview
Follow Nervosa on Facebook, Instagram, Twitter