​Extremity in pictures: Most shocking NSFW videos [18+]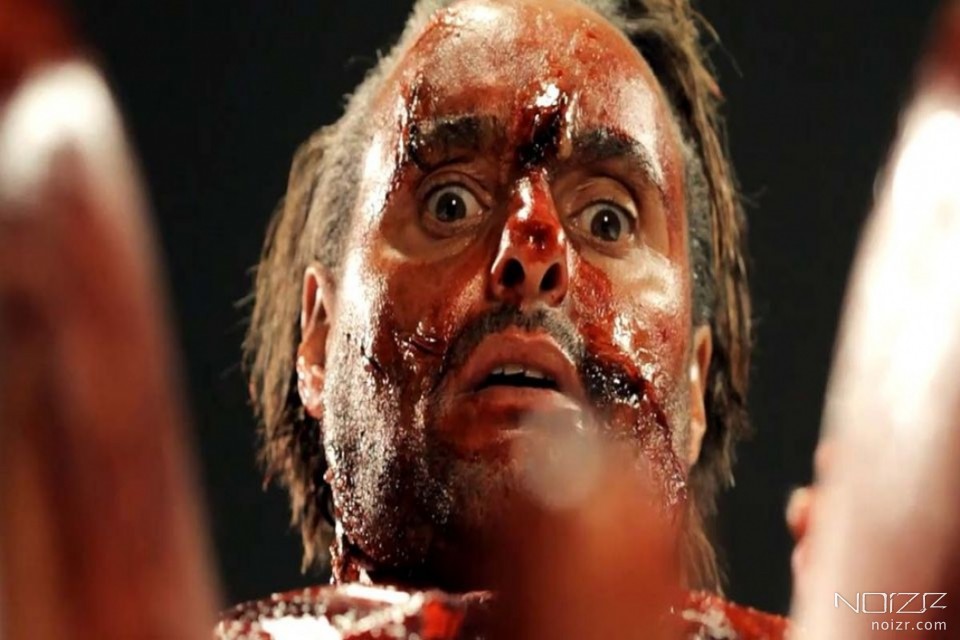 Extremity is something that gets spoken about fairly often within the metal community, especially once a fan starts to delve into genres like death, grindcore & black metal. So often I have heard, "Well, if you think that's "heavy/extreme", check this band out". Interestingly, however, when it comes to creating a visual representation of music, extremity and intensity becomes fair game to everyone, it doesn't matter how many blasts there are, how guttural the vocals can be or how atonal or brutal the riffs are.

True horror is in the eye of the beholder and it's fair to say that regardless of genre, there are some minds out there that have created some truly disturbing visuals to accompany their music, whether the band is hard rock or brutal death metal.
We have collated below, for your viewing pleasure, dear audience, some of our favourite and most disturbing music videos, in no particular order we present to you Noizr's selection!
Danzig "It's Coming Down"
Whilst Danzig may sound like relatively easy listening, one only needs to look at his legacy to know that this is a man who has visions of incredibly dark things, and has always been invested in violence and things that are on the fringes of human society; whether that be the infamous fights that occured at Misfits' shows, his next band Samhain, routinely playing covered in horses blood or his music videos for Danzig.
MTV has refused to play a large number of his videos whether it be the original one for "Mother", his uncut Giger crafted video "How the Gods Kill" or the video below for "It's Coming Down". A hard to find video that was only released on a DVD anthology a few years ago, here it is in all it's unfiltered glory. From the EP "Thrall: Demonsweatlive" — "It's Coming Down".
Head to this location to watch the totally uncensored version of the video.
Antaeus "Blood War III"

From a band whose motto is "I hope you die", an album title of "Cut Your Flesh and Worship Satan" and a vocalist who drank bleach on stage and then proceeded to vomit the bloody concoction on stage and into the crowd, would you really expect their one music video to date to be an easy watch? A flagship song of Antaeus, taken from the album "De Principii Evangelikum" — "Blood War III".
Shining "Vilja & Dröm"

Shining have long been known for courting controversy, whether that be through their live gigs (the infamous Atilla, Maniac, Ghoul (Kvarforth), razor blade episode is now the stuff of black metal legend), their seemingly more accessible music coupled with their lyrics, Kvarforth's philosophy, and of course this video below, taken from their ninth album "IX — Everyone, Everything, Everywhere Ends" — "Vilja & Dröm".
Nine Inch Nails "Closer" and "Happiness in Slavery"
Many people's initial exposure to "disturbing videos" would surely have come in the form of one of the next few videos.
NIN have been a band that in their early years created some truly challenging videos, before Trent cut his hair and started doing movie scores and evolving into a seemingly far less controversial figure. Their video for "Closer" was never aired by MTV until 2002, nearly 10 years after the video was first created. Taken from "The Downward Spiral" — "Closer".
And an honourable mention goes to Bob Flanagan for appearing in two videos, the Danzig video above and NIN's "Happiness in Slavery" which received very little airplay due to its content. I wonder why? Taken from the EP "Broken" — "Happiness in Slavery".
Marilyn Manson "(s)Aint"
In a similar way to how Trent Reznor has become accepted as part of the metal community and has seemingly mellowed in recent years, it's worth remembering why Marilyn Manson got so many parents up in arms when he started becoming popular. His music was accessible and incredibly unchallenging but the visuals that accompanied his music certainly created an aura of outrage. Self-harm, drugs and sexual content created an un-holy trinity around this track, with the label distancing themselves from it and wanting nothing to do with it. "The Golden Age of Grotesque" — "(s)Aint".
Cradle of Filth "From Cradle To Enslave"

As much as Cradle of Filth may be disregarded by many in the metal community, they're another band whom have done their fair share to draw negative attention to themselves, whether that be their infamous "Jesus is a Cunt" shirt or the imagery that they've created. Yes, we all know Dani Filth is the king of cringe (although he does have a few rivals *cough* Shagrath *cough*) but to give credit where it's due, this next video (similar to the 2 videos above) rightfully gave parents a reason to be worried about what media their progeny were listening to.
Cattle Decapitation "Forced Gender Reassignment"
Of course no list of videos would be complete without allowing some grindcore bands into the fold. For a bunch of liberal vegans, Cattle Decapitation have routinely shown their disgust for humanity by creating videos that are solely focused on conveying this sentiment. And perhaps none more so than this video from their 2012's album "Monolith of Inhumanity" — "Forced Gender Reassignment".
Cephalic Carnage "Ohrwurm"
Not to be outdone in the realms of "Torture Porn" style horror movies is Cephalic Carnage. I think there is a fair argument to be had when talking of extremity in "Does imagined horror and it's faked images, really compare to the images of real depravity? Whether that be sexual or violent?" Either way one thing is for certain this video is definitely NSFW and for those of you who are squeamish… enjoy! Taken from "Misled by Certainty" — "Ohrwurm".
Slayer "Repentless"
Whilst we're on the subject of "imagined horror" we have to acknowledge Slayer, without whom many of these more "extreme" bands and their dark lyrics would never have existed! After the two preceding videos it may not be the most graphic but this band will forever be recognised for pushing the boundaries on extremity and being one of the most popular bands in metal ever! From their 12th studio album "Repentless" — the title track of the same name.
See also: Slayer complete "Repentless" trilogy with a bloody video "Pride In Prejudice"
GG Allin
Punk's favourite coprophiliac! GG Allin's video may seem weak in comparison to some of the other videos, however let's not forget the time in which this video appeared and it may not seem that "out there" in 2019, but as a product of its time, "Kill the Police" is up there with one of the most provocative videos of its era. Taken from "Murder Junkie" — "Kill the Police — Destroy the System".
Diapsiquir "A.N.T.I"
Finally it is my utmost pleasure to reveal to you a video that was removed from the internet and until now unavailable for your enjoyment. The manic french duo Diapsiquir; they have now moved away from their debauched past, and both musically and philosophically have distanced themselves from this video, as they have both now found Jesus (yes, really!) but as you'll see from this video created as a promo for their 2011 album "A.N.T.I", they've got a whole lot of repenting to do before their God lets them into his everlasting kingdom.
So there we go! Let us know in the comments below which videos you think we've missed, which one was your favourite and, of course, tell us how wrong we were in our selections!
See also:
French sludge metallers Black Box Warning release NSFW video "5 mg"
Kreator present grim NSFW video "Gods Of Violence"
Lindemann's video "Praise Abort"
By Dan Thaumitan