Eat Me, Drink Me. Edible merch of metal bands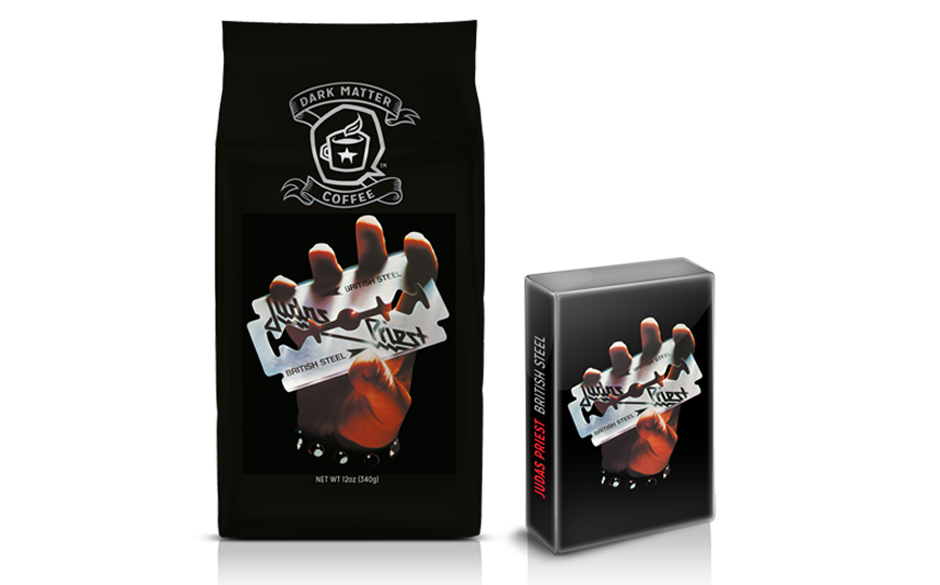 In celebration of the 35th anniversary of Judas Priest's album "British Steel" released, on the 14th of April the same-named coffee is available for sale. In connection with this event, we decided to make a selection of metal groups' edible merch.
Most bands, deciding to release their own gastronomic product, chosing to produce their own brand of wine and beer. Some musicians have such kind of merch as vodka and absinthe, but most often you can't buy any alcohol on the bands' website. For such purposes there are specialized online stores (links to them are at the bottom of the page), where you can find most of these products from various well-known metal groups.
Iron Maiden beer "Trooper"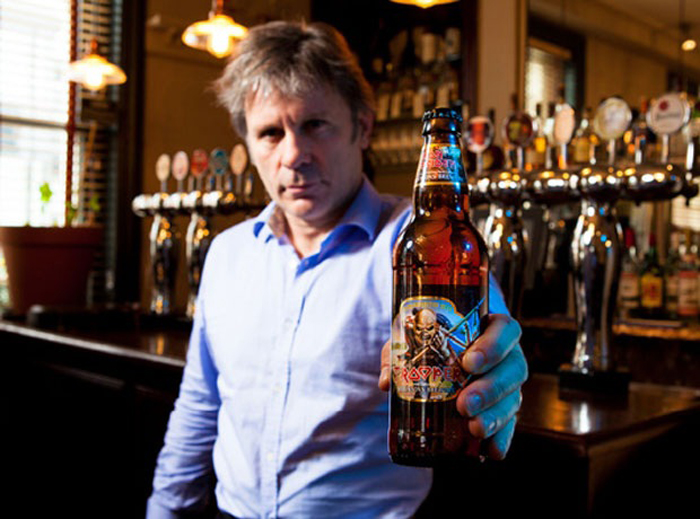 The British heavy metallers Iron Maiden's beer "Trooper" is an excellent ale with citrus aftertaste and 4.7% alcohol content. Bottled into 500ml traditional Glass Bottle, decorated with the band's mascot Eddie. I have found "Trooper" in Prague pub "Hells Bells", and I can safely recommend it not only for Iron Maiden's fans, but also for all lovers of delicious beer.
Ghost beer "Grale"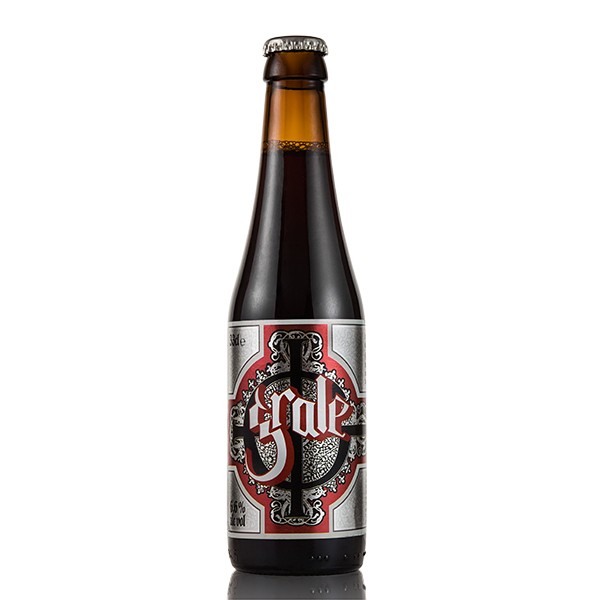 The fans of the Swedish band Ghost have to taste a beer "Grale" with 6,6% alcohol content. The drink, which appeared just over a year ago, now is not available on the website, but you can order it in the thematic online stores.
Wine "Amon Amarth Shiraz"
In 2012, the Swedish Vikings started the production of red wine "Amon Amarth Shiraz" 14%. The drink is made from Shiraz grapes grown in the south-east Australia. According to the description, "Amon Amarth Shiraz" has a strong aroma of blueberry, some licorice with spicy peppery notes.

AC/DC wine, beer and energy drink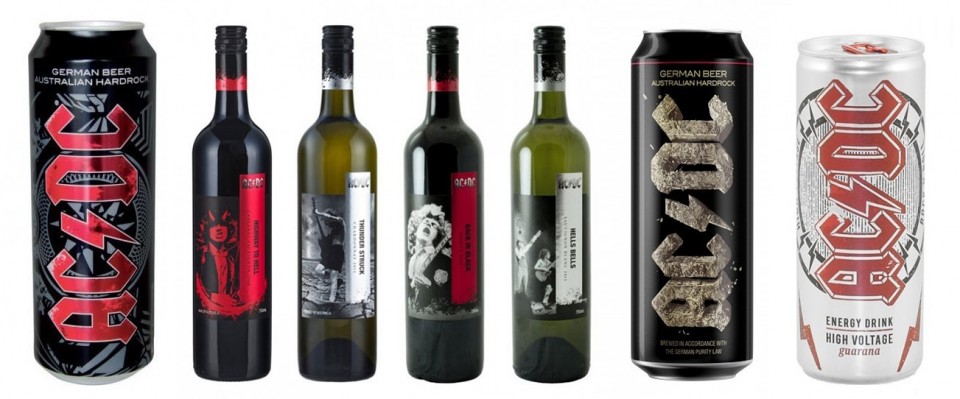 Get ready for a romantic evening in advance, purchasing a bottle of Chardonnay "Thunderstruck", Cabernet Sauvignon "Highway To Hell", Sauvignon Blanc "Hells Bells" or Shiraz "Back In Black" by AC/DC. All wines are produced in Australia, except for "Hells Bells", which grapes is grown in New Zealand. Also in rockers' merchandise is available beer and energy drink, particularly it's already possible to buy beer, named after the musician's latest album "Rock or Bust".
Slayer red wine "Reign in Blood"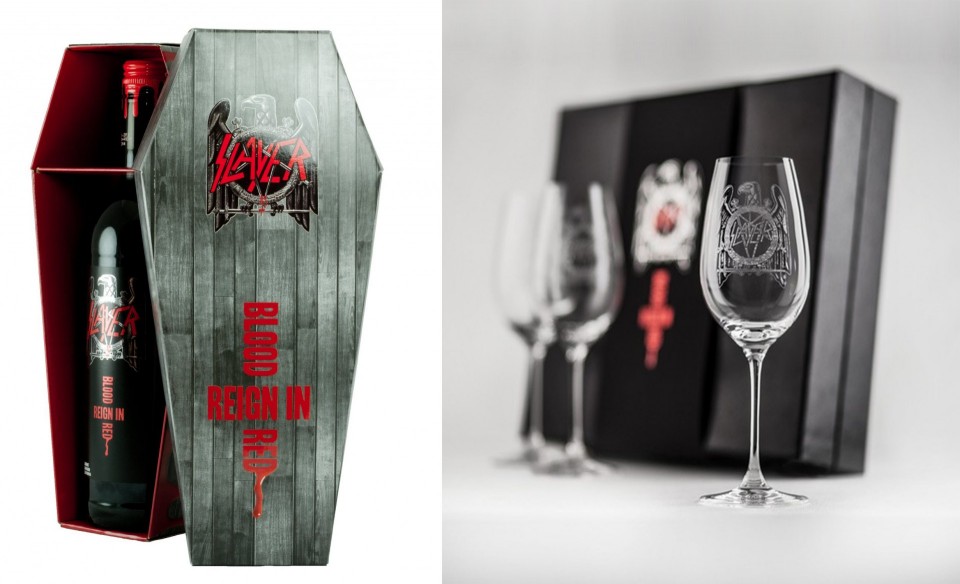 The thrash metallers Slayer have widely presented range of gastronomic merch. On the Internet you can find several Slayer St. Valentine Package, one of which includes six bottles of red wine and three branded glasses. The fans can also buy the bottle of red wine "Reign in Blood" in the coffin gift box, and branded apron for cooking grill.
Kiss "Destroyer" and "Zinfire"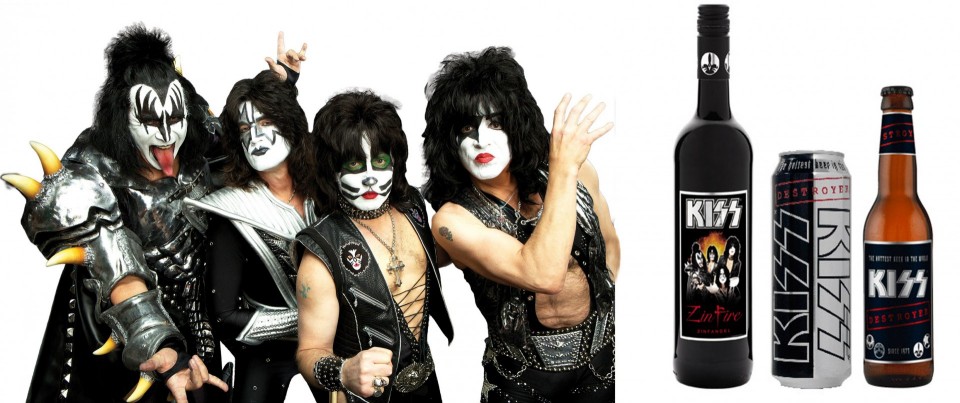 The rockers Kiss have always been famous for the most unusual merch. A few years ago it was possible to buy a coffin decorated with the band's symbols (now it could not be found even on eBay). For their live fans Kiss releases Zinfandel red wine "Kiss Zinfire Wine" and "KISS Destroyer Beer".
Motörhead alcohol tour package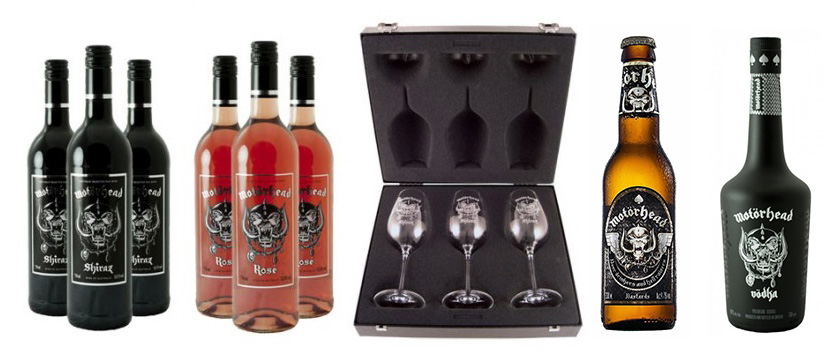 Going on tour or just a long trip? The guys from Motörhead have already prepared for you a set, which includes three bottles of rose wine "Motörhead Rosé", three bottles of red wine "Motörhead Shiraz" and three branded glasses. For those who like more hard liquor you can taste Motörhead's vodka, which is produced in Sweden. And for beer lovers is "Motörhead Bastard Beer".

HammerFall whiskey "Legacy of Kings"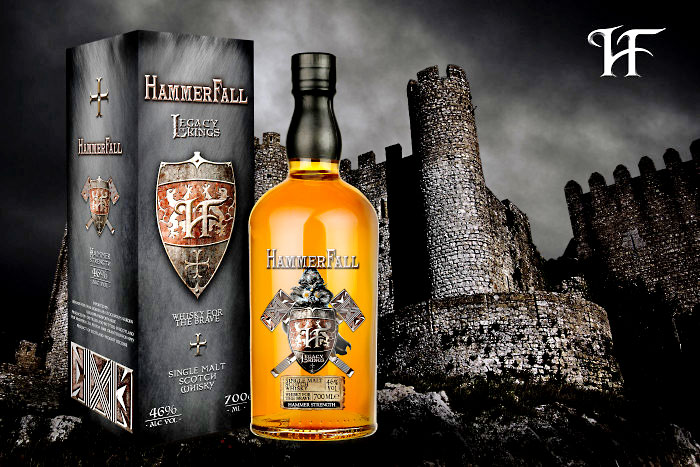 For hard liquors lovers the Swedes HammerFall produce Scotch whiskey "Legacy of Kings", named after the second album of heavy metallers. Buy "kings' drink" for € 69,99 on the band's label Nuclear Blast website.
Rammstein vodka "Feuer & Wasser"

"Feuer & Wasser" ("Fire and Water") is named after the same ballad from the German metallers Rammstein's album "Rosenrot", 2005. It is produced in a glass bottles with a filigreed refinement and a Rammstein overpack matching the bottle in Berlin.

Marilyn Manson absinthe and candies

A few years ago I had the opportunity to try Marilyn Manson's absinthe "Mansinthe", found in the Czech Republic "Absintshop". His strength was 66.6%, which is slightly lower than the standard alcohol content in this beverage (from 70 to 85%). A kind of identification mark of the absinthe is it's label design, created with Manson's drawing "When I Get Old".
Also in Mr. Manson's merchandise can be found small heart-shaped candies "Marilyn Manson Candy Hearts". It is available on the musician's official website.
Rob Zombie chocolate horror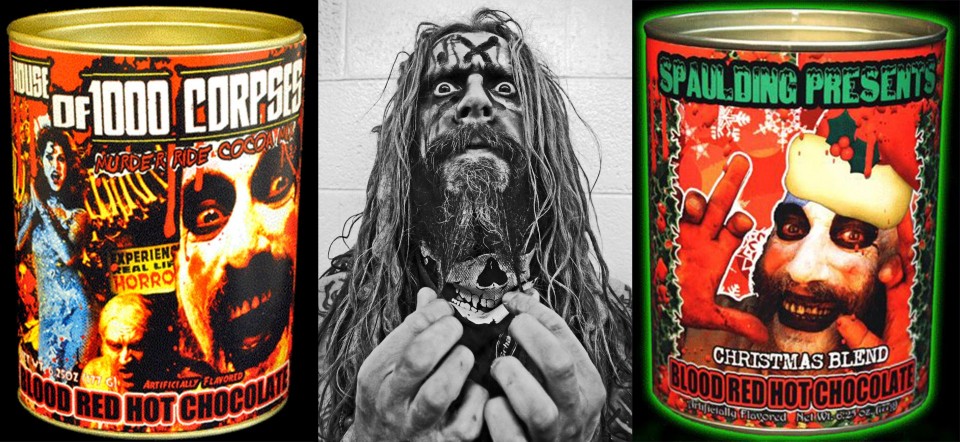 Continuing the theme of sweets, for Rob Zombie's and his horror movie fans can order hot chocolate, packaged in a tin with a picture of a maniac Captain Spaulding from the film "House of 1000 Corpses." The sweets $7.99 and $14.99 dollars for "Captain Spaulding's Christmas Blend Hot Chocolate Mix" and "House of 1000 Corpses Hot Chocolate Mix", respectively.
Red Fang hot sauce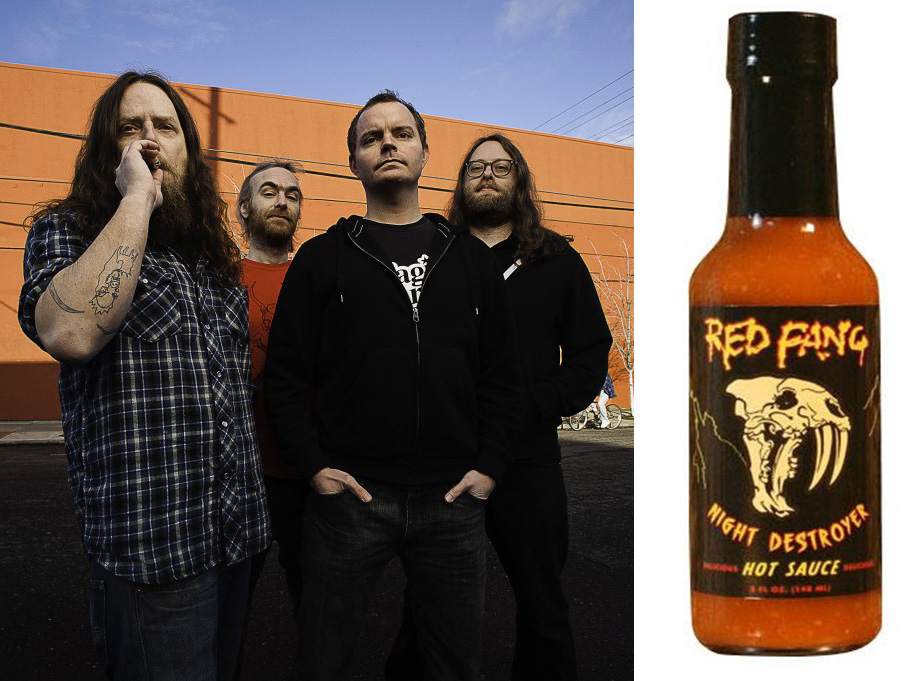 The beer bearded Red Fang, known for their hilarious videos, surprisingly, instead of beer, last year they released a hot sauce "Night Destroyer". The basis for this liquid seasoning is physalis and chilli, rated 8 out of 10 on the hotness scale.
What gastronomic merch have you tried? Write in the comments!
By Anastezia