​Upcoming game Apocalipsis ​to feature narration by Behemoth frontman
Behemoth's frontman Adam 'Nergal' Darski will act as a narrator in the upcoming game Apocalipsis from the Polish developer Punch Punk Games. Video from the musician's recording session can be viewed above.

In the description of the video, it's also reported that there will be "a new, somber rendition of Behemoth's music hidden in the game".
Read also: Amon Amarth releases self-titled viking mobile game in '80s style
Apocalipsis is a point-and-click adventure game, in the vain of Samorost and Machinarium, where all puzzles have a hidden meaning. With a unique art style inspired by 15th century engravings it tells a story about heartbreak, redemption and, quite literally, the end of the world. The game will be available on OS Windows XP SP3 / Vista / 7 / 8 / 10.
Game's story
In Apocalipsis you play as Harry, for whom the loss of his beloved was the end of his world. Now he has to venture out into the strange, unwelcoming lands to get her back. On his journey he will meet fantastical creatures, straight from the minds of artists from the 15th century Europe, and ultimately conquer his own, personal demons. Featuring the narration by Nergal, leader of the band Behemoth, with the added atmospheric new rendition of Behemoth's music, it will be a journey to remember.
See aslo: Iron Maiden mascot appears in Angry Birds Evolution game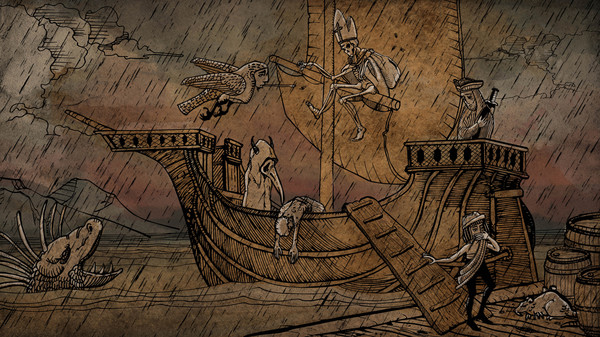 Apocalipsis style

The game is decorated in the style of the Middle Ages, and the world of the game is inspired by the Revelation of John the Theologian and is full of references to medieval philosophy and faith, as well as borrowings from Dante Alighieri's Divine Comedy. Each location and character in the game are created under the influence of wood engravings made by such artists of the 15th and 16th centuries as Hans Holbein, Michael Wolgemuth and Albrecht Durer. This combination of medieval art and philosophy with video games creates something unique, something you have not seen before.
Read also: Judas Priest's mobile game "Road to Valhalla" out now
The game Apocalipsis will come out in 2018. The exact release date is unknown yet.