​Rotting Christ's founders arrested in Georgia on suspicion of terrorism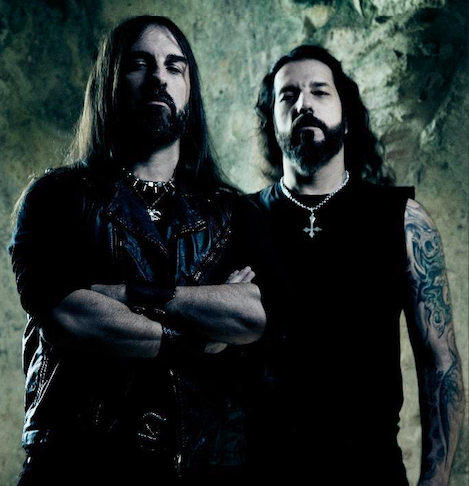 Season of Mist made a post on Facebook, informing that members of the Greek band Rotting Christ, the brothers Sakis and Themis Tolis, were arrested on April 12 in the country of Georgia, where they were due to perform in Tbilisi. The detention is reported to have been occurred because of spurious grounds involving charges of terrorism allegedly based on the band's name.

The frontman Sakis Tolis relates the events in his own words:
"We arrived in Georgia's capital Tbilisi very early in the morning of Thursday, 12th of April. After the regular document check at the border, my brother and I were stopped by the police on our way out from the airport. After some minutes, we were ordered to follow police to another area of the airport under the pretence of further questioning before entering the country. Instead, we had our passports and mobile phones taken away and were lead into a prison cell. When we were demanding to be told the reason for this arrest, we were simply told this information would be 'confidential'. Our lawyers informed us later that we are on a list of unwanted persons of national security that branded us as Satanists and therefore suspects of terrorism.

Without previous warning and no official reason, we found ourselves in jail, locked into a small and rather dirty cell and without being permitted any contact to the outside world or legal representation or our embassy for 12 hours. Conditions were bad and no further information provided during this time.

Luckily, only the names 'Tolis' were on the list and the other two band members started to work with the local promoter to extract us from prison and commence legal procedures. It took strong efforts and a complicated procedure to find a solution. Due to the hard work of the local promoter, who involved legal experts, journalists, and activists in Georgia, we were finally released. We are extremely grateful to everybody involved in this process. In the end, we were even able to perform our show and it turned out to be a fantastic night. We would also like to thank all our Georgian metal brothers for their overwhelming support!"
Rotting Christ were allowed to leave the country towards Armenia without any further complications. Later Sakis wrote a post on his Facebook page:
"To all my friends that worried about our condition after the recent adventure i had with my arrest we would like to inform them that we are back home safe and in one piece. There is no jail that can stop our endless lust for Metal and i promise that i will always be frontline in the battle against any kind of god-fearing regimes as well as any kind of terrorism independent of where they come from. Freedom of speech to everyone brothers. I will always shout at any part of this world...NON SERVIAM! See you soon in the battlefield!"
Rotting Christ are currently touring in support of their double compilation album "Their Greatest Spells", released on March 23 via Season Of Mist. The CD includes the best songs of the band, selected by Sakis Tolis, as well as a new track "I Will Not Serve".
Read also: "I'd rather spend month in prison than rehearse with some metalheads": Varg Vikernes refused $425,000 for two Burzum's shows

On April 14, Rotting Christ gave a concert in Kyiv, Ukraine, before which Sakis Tolis talked with the Noizr Zine team. An interview with the band's leader will soon appear on our YouTube channel.
Rotting Christ live
21 Apr 18 Burgas (BG) Youth Cultural Center
4 May 18 Velenje (SI) Metal Days Warm Up show
5 May 18 Izegem (BE) Headbangers Ball Festival
11 May 18 Kopervik (NO) Karmøygeddon Festival 2018
13 May 18 London (UK) Incineration Festival
27 May 18 Langres (FR) Outch! Festival
2 Jun 18 Duisburg (DE) Rage Against Racism
7 Jun 18 Sölvesborg (SE) Sweden Rock
16 Jun 18 Cervený Kostelec (CZ) Metal Gate Festival
14 Jul 18 Anyksciai (LT) Devil Stone Festival
17 Aug 18 Borre (NO) Midgardsblot Festival (exact date tbc)
18 Nov 18 Bucharest (RO) Metal Gates