​Brutal Assault festival announces final underground lineup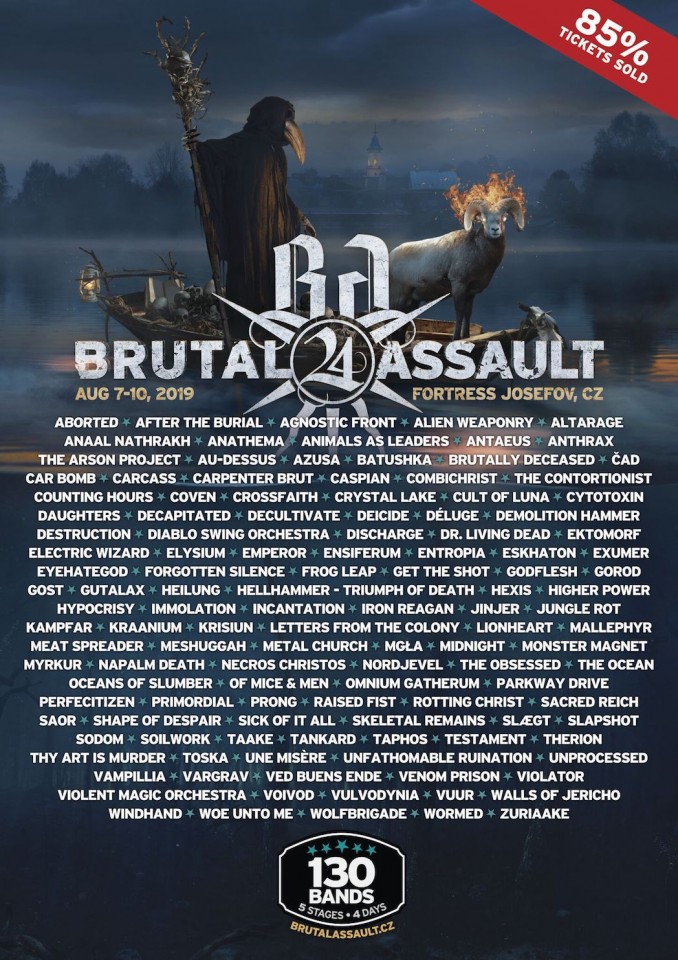 The 24th festival of extreme metal music Brutal Assault to take place on August 7-10, 2019, in Jaroměř, Czech Republic. The festival has recently made a final announcement of underground bands that will perform on one of several open air scenes.

So, the lineup of the upcoming Brutal Assault festival was replenished by Kampfar, who recently released a new album "Ofidians manifest", Japanese act Crossfaith, Spanish death metallers Altarage, as well as the bands Entropia, Une Misère, Unprocessed, Brutally Deceased, Mallephyr, Elysium, and Forgotten Silence.
In addition, it became known that the previously announced Manes will perform at the festival in 2020.
Tickets for the festival can be ordered here.
Brutal Assault festival is an anchorage of metal music and associated art with 130 artists, 5 stages, several art galleries, and extensive chill-out zone. If you have not been there yet, this festival is just another level of experience in dark art with a cherry-picked blend of refreshing underground bands and stellar headliners spread across diverse festival area located within the 18th-century military fortress. Among traditional festival features the festival area also offers luxury sanitary facilities, permanent horror cinema, underground mazes, huge metal market, art galleries, a lot of sitting spaces within the fortress walls providing shelter from the weather and tons of other attractions. Brutal Assault is mainly about music but in recent years it also started to resemble a food festival with vegan and carnivore and all kinds of ethnic cuisine, supplemented by a wide variety of best Czech beers starting from 1.5 Euro for half a liter (17OZ).
Read also: 5 reasons to visit Brutal Assault festival
List of confirmed acts: ABORTED, AFTER THE BURIAL, AGNOSTIC FRONT, ALIEN WEAPONRY, ALTARAGE, ANIMALS AS LEADERS, ANAAL NATHRAKH, ANATHEMA, ANTAEUS, ANTHRAX, THE ARSON PROJECT, AU-DESSUS, AZUSA, BATUSHKA, BRUTALLY DECEASED, CAR BOMB, CARCASS, CARPENTER BRUT, CASPIAN, COMBICHRIST, THE CONTORTIONIST, COUNTING HOURS, COVEN, CROSSFAITH, CRYSTAL LAKE, CULT OF LUNA, CYTOTOXIN, ČAD, DAUGHTERS, DR. LIVING DEAD, DECAPITATED, DECULTIVATE, DEICIDE, DELUGE, DEMOLITION HAMMER, DESTRUCTION, DIABLO SWING ORCHESTRA, DISCHARGE, EKTOMORF, ELECTRIC WIZARD, ELYSIUM, EMPEROR, ENSIFERUM, ENTROPIA, ESKHATON, EXUMER, EYEHATEGOD, FORGOTTEN SILENCE, FROG LEAP, GET THE SHOT, GODFLESH, GOROD, GOST, GUTALAX, HEILUNG, HELLHAMMER – TRIUMPH OF DEATH, HEXIS, HIGHER POWER, HYPOCRISY, IMMOLATION, INCANTATION, IRON REAGAN, JINJER, JUNGLE ROT, KAMPFAR, KRAANIUM, KRISIUN, LETTERS FROM THE COLONY, LIONHEART, MALLEPHYR, MEAT SPREADER, MESHUGGAH, METAL CHURCH, MGŁA, MIDNIGHT, MONSTER MAGNET, MYRKUR, NAPALM DEATH, NECROS CHRISTOS, NORDJEVEL, THE OBSESSED, THE OCEAN, OCEANS OF SLUMBER, OF MICE & MEN, OMNIUM GATHERUM, PARKWAY DRIVE, PERFECITIZEN, PRIMORDIAL, PRONG, RAISED FIST, ROTTING CHRIST, SACRED REICH, SAOR, SHAPE OF DESPAIR, SICK OF IT ALL, SKELETAL REMAINS, SLÆGT, SLAPSHOT, SODOM, SOILWORK, TAAKE, TANKARD, TAPHOS, TESTAMENT, THERION, THY ART IS MURDER, TOSKA, UNE MISÉRE, UNFATHOMABLE RUINATION, UNPROCESSED, VAMPILLIA, VARGRAV, VED BUENS ENDE, VENOM PRISON, VIOLATOR, VIOLENT MAGIC ORCHESTRA, VOIVOD, VULVODYNIA, VUUR, WALLS OF JERICHO, WINDHAND, WOE UNTO ME, WOLFBRIGADE, WORMED, ZURIAAKE.
Read also: 6 tips we learned at the Brutal Assault 2018