​Robust Evening, feat, Soom, stonefromthesky, and Brat, to take place on April 28 in Kyiv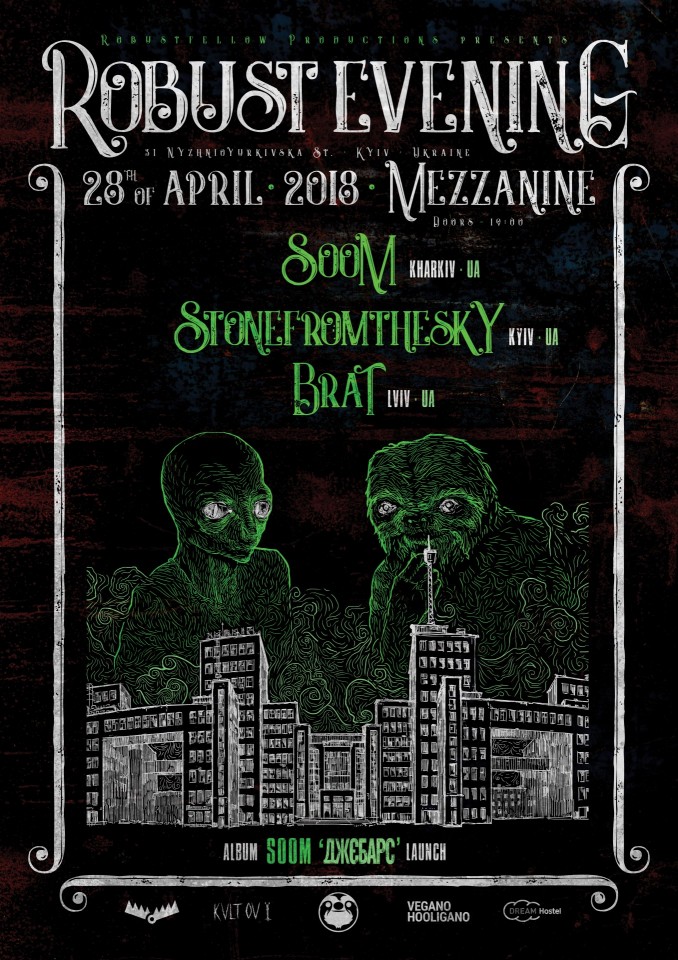 The Kharkiv-based band Soom to present their new concept album "Djebars" on the upcoming Robust Evening on April 28. The event will also feature the experimental act stonefromthesky (Kyiv) and Brat (Lviv), who will perform in Kyiv for the first time.

According to the organizers, the first Robust Event of this year promises many interesting and exclusive surprises.
Start: April 28 at 19:00
Venue: "Mezzanine", st. Nizhnyurkovskaya 31, Kyiv, Ukraine
Tickets: TBA
Event on Facebook
Line-up:
Soom (LO-FI \ NOISE-ROCK \ SLUDGE JUGGERNAUT) Kharkiv, UA

stonefromthesky (ELECTRONIC \ EXPERIMENTAL) Kyiv, UA
Brat (NE HIP-HOP \ WANTON RAP \ EXPERIMENTAL) Lviv, UA