​Batushka or Bartushka: What's happening with the Polish project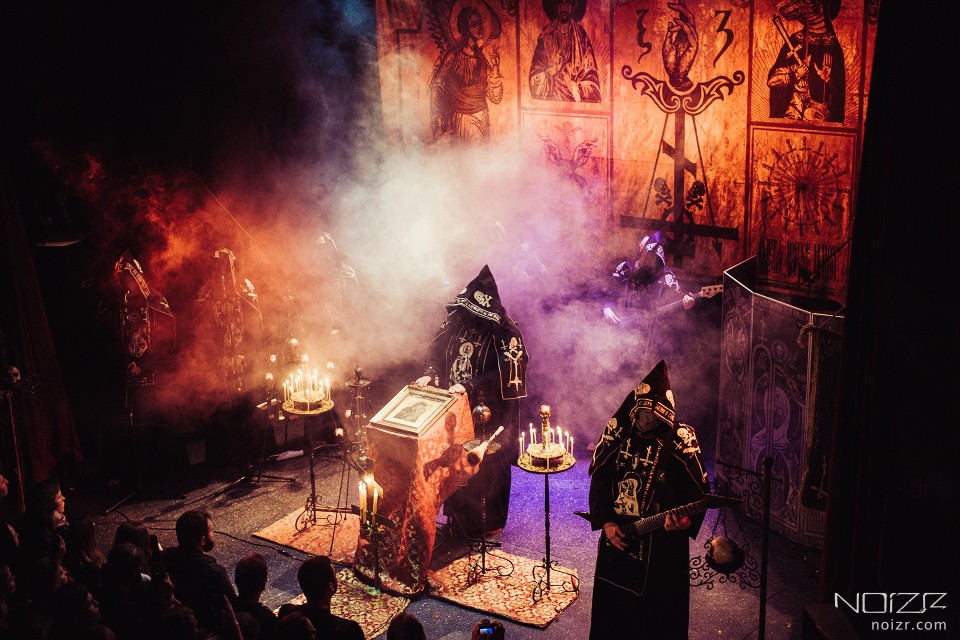 Since last December, Batushka fans have been wondering what exactly is happening with the Polish black metal project and which of its members — its founder and creative leader Krzysztof Drabikowski or vocalist, manager Bartłomiej Krysiuk — is right in the current situation. Noizr Zine restored the chronology of events and recriminations between the musicians.

Founded and released in 2015 the debut album "Litourgiya", the Polish band Batushka gained incredible popularity in the metal community. The increased interest in the group was also facilitated by the fact that Batushka was presented as an anonymous project created by members who are from "well-known Polish metal bands". This later turned out to be, albeit unjustifiable, but nevertheless a clever PR move — other projects of Batushka's key members were little known outside of Poland. Nevertheless, having only one album behind them, the band toured almost continuously, even giving shows together with the titans of the Polish stage, Behemoth.
At the end of December, 2018, the leader of Batushka Krzysztof 'Христофоръ' Drabikowski announced that Bartłomiej 'Варфоломей' Krysiuk is no longer a member of the band because of his "inappropriate behavior". This became known from the post on the band's Instagram, which was later deleted. A couple of days later, the musician posted a video message in which he stressed that he was the only creator, ideological and creative leader of the project. Drabikowski said that he had lost access to the official site and all of the group's accounts, except YouTube, where he decided to tell his story.
Also, the musician said that he alone came up with the whole concept of the band, including its music, lyrics, album cover, etc.
On January 1, 2019, there was unveiled an extensive interview with Krysiuk. The musician said that no one questions the contribution of Drabikowski to the creation of the album, but he, Krysiuk, was responsible for the full financial support of the project. He also stressed that he was behind the design of costumes, graphics, the whole set design, etc. According to him, he invested money in equipment and was engaged in logistics, sales, and booking concerts of the band.
"Nobody questions Krzysiek's contribution to the creation of the album, but it is not true that he created the whole entirely. There are a few people behind it, and above all, I am the main investor, the person responsible for the external vision of the band and how everyone perceives it", Krysiuk said [hereinafter translation from Polish by Noizr].

"Krzysiek didn't want to sign any contracts, so I took everything on myself, all responsibility, including possible financial penalties. It was me who incurred all the costs of musicians' rewards, organizing rehearsals, everything related to the Batushka name. It was a brand and a company that was created entirely by me, Krzysiek drew profits from it, from the very beginning without investing a penny. So I do not have the right to it?"
Candlestick at Batushka's gig in Kyiv
Commenting on the registration of the name Batushka, Krysiuk said that he wanted to secure an "anonymous" project that had already encountered the problems of fake merchandise.
"Krzysiek can confirm this because he personally reported the case of one of the counterfeit producers on the police."
In addition, Bartłomiej assumed that his former colleague had mental problems because of which the band had difficulties with line-up and gigs.
"Krzysiek has huge mental problems that everyone knew and told about. Everyone who stayed with him longer stated that something was wrong. I can add a story from the times when we worked in Hermh — we went on tour, and after probably the fifth concert came out of the club and did not return, and the reason was that he did not have access to the Internet."

"There were many quarrels about Krzysiek's behavior; how he treats other people in the team", he added.
According to Krysiuk, due to disagreements between him and Drabikowski, in particular regarding the new album, the musicians agreed that they would stop their cooperation, after playing the last planned concerts. Also, according to Bartłomiej, they discussed the probability of the existence of two Batushka bands.
"After these concerts, when we finished cooperation, it was clear that there would probably be two Batushka. We agreed, however, for an interview that was to take place on December 27, but in the meantime, Krzysiek started publishing messages on Instagram, which clearly showed that nothing would come from this agreement. I sent several SMS asking for a conversation and clarification of this matter, maybe even I could continue to cooperate but under new conditions ... I did not receive any answer, and instead, a statement appeared that throws me out of my project, though I really left the project myself before because I wanted to have a real team — only this could continue to function."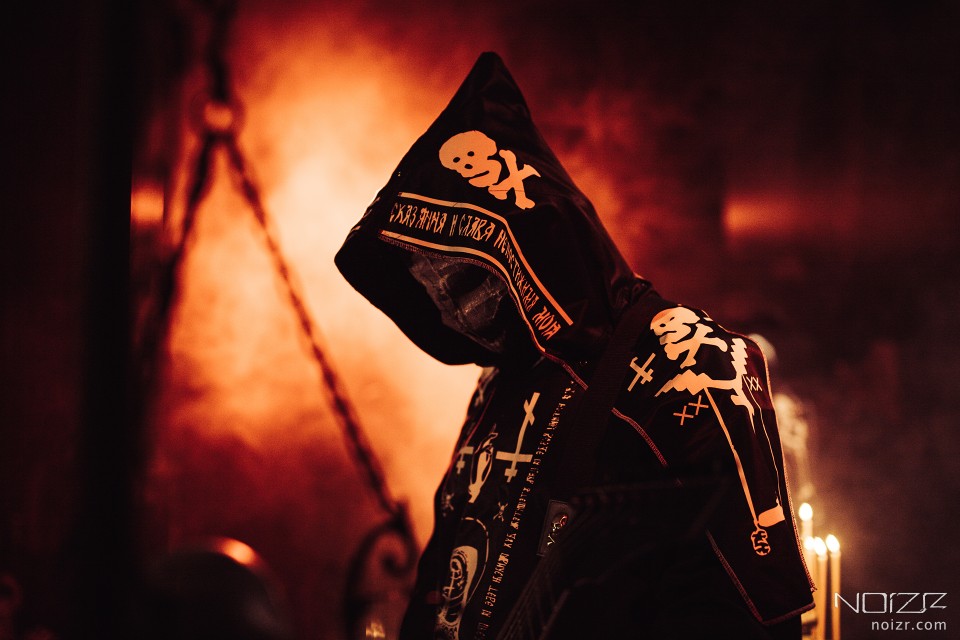 Drabikowski during gig in Kyiv, 2018
On April 12, there was revealed a new interview with Drabikowski, in which he repeated previously told statements from his video message.
"I always treated it [Batushka] as a solo studio project. When the concerts approached, I decided to gather people and create a line up that could play live. I knew immediately what it was supposed to look like, the stage design: in the centre an icon from the album cover, a vocalist behind it. On both sides of the vocalist, I wanted to put the characteristic candlesticks that I made myself, such as in the church, with many thin candles. I also knew what kind of costumes I would use – I wanted them to look like schema monk's frock. I sent all my inspirations and projects to Krysiuk, and he commissioned them to be made."
Also, the musician said that since the case is in court, he can't yet make public all the evidence of his case.
"All Батюшка compositions were created before I met with Krysiuk and we took up cooperation. I can prove all of this and everything is secured by a notary public and constitutes evidence in the case. When all the files are secured by the court I will publish them."
Speaking about plans for the future, Drabikowski reported on the work on the second album.
"On the new album "Panihida" I played the parts of all instruments myself and did some vocals. I also invited my closest trusted friends to take part in it as vocalists, so the vocals belong to several different people, though my voice appears there as well. At first, I planned to hire a drummer, but I also did the drums myself."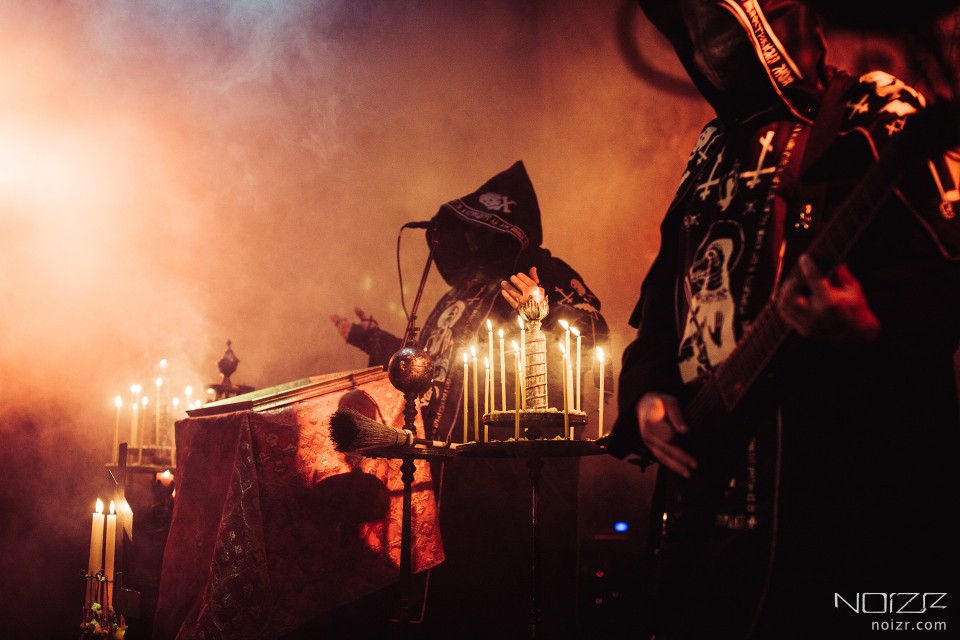 Krysiuk (left) and Drabikowski (right) during gig in Kyiv, 2018
Later, a post appeared on Batushka Facebook's page, which became a kind of an answer to Drabikowski's previously published interview.
"No one has ever denied the contributions of Mr Drabikowski — morally or legally. Drabikowski is recognised in a publishing and recording setting for writing and partially performing the music on the Litourgiya album. However, no individual makes Batushka and our identities were hidden for that reason. For a man who claims to love his work – he conducted himself for himself, invoicing and never investing. The Batushka you now love would have been crushed by such a man's greed.

We have, in our hands, the masters to a piece of work which shall speak for itself — the original band is together and have entrusted their signatures as a part of our exciting, worldwide record deal with Metal Blade Records...with exception only to one.

Those who have supported Drabikowski's cause, please follow him…but know, he does not represent Batushka. Batushka lives here."
Replying to the question of what he thinks about Bartłomiej's new statement later, Drabikowski said that "the case is still in court, nothing has changed".
Updated on May 6, 8:20 pm. On Monday, May 6, Drabikowski unveiled court documents on the case of personal property and payment protection. According to the decision of the Regional Court in Bialystok, Poland, dated April 18, 2019, Krysiuk is forbidden "to release album under the name of Batushka or Батюшка" and "to give concerts under the name of Batushka or Батюшка" for the time of court proceedings.
Read also: Batushka vs Bartushka. "Panihida" vs "Hospodi" review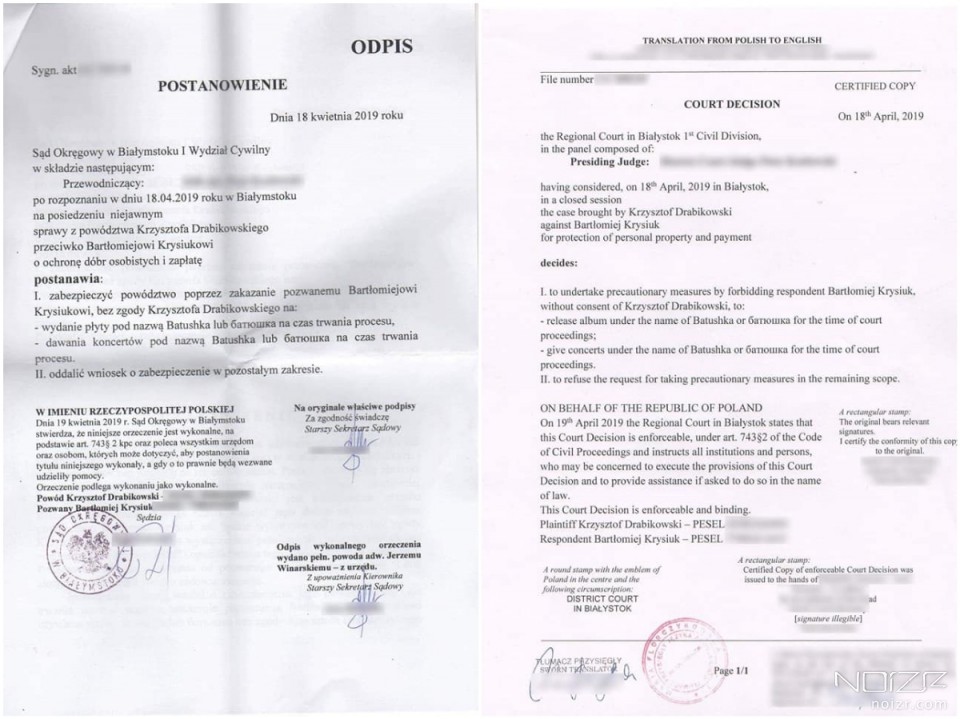 At the same time, the court refused other requests of Drabikowski, which were not specified. So far, Krysiuk has not given any comments regarding the published documents.
Text by Anastezia G.
All photos by Mila Immortality. See more pics here